Singer performed blasphemous one-man show declaring Jesus 'gay'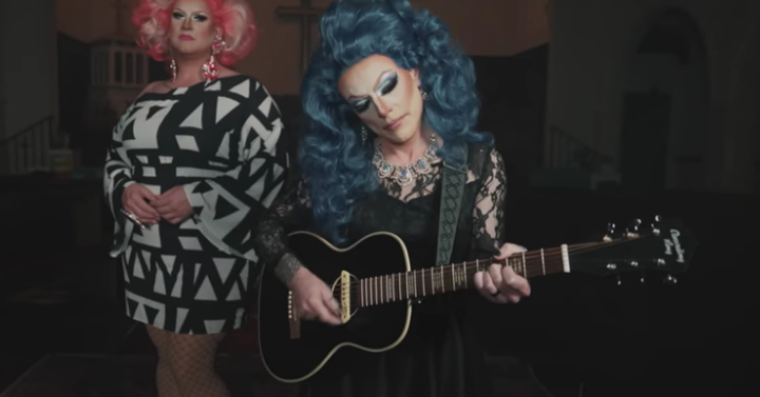 For the first time ever, a man who performs in makeup and women's clothing has hit No. 1 on the Christian music charts — a feat in part due to criticism from worship artist Sean Feucht.
Matthew Blake, who wears makeup and women's clothing and performs under the name Flamy Grant, released the album "Bible Belt Baby" last year but recently hit the top spot on the iTunes Christian and Gospel chart along with the album's lead single, "Good Day."
Following the album's unlikely success, Feucht, best known for his "Let Us Worship" tour during the COVID-19 lockdowns, criticized Derek Webb, former singer for CCM band Caedmon's Call, who collaborated with Blake on "Good Day" and shared a photo of Blake, Webb, and Tiffany Arbuckle Lee, singer for Plumb, a former award-winning CCM band.
Feucht tweeted: "If you're wondering the end goal of the deconstruction movement in the church, then look no further than former worship leader @derekwebb's new collab with a drag queen. These are truly the last days."
If you're wondering the end goal of the deconstruction movement in the church, then look no further than former worship leader @derekwebb's new collab with a drag queen.

These are truly the last days. https://t.co/sgvzGFoRgu

— Sean Feucht (@seanfeucht) July 26, 2023
In response to Feucht's tweet, Blake commented, "End goal? Baby we're just getting started" and called on his Instagram followers to "prove Feucht wrong."
In a September 2022 interview, Blake acknowledged his drag name was inspired by "arguably the most successful Christian artist of all time," CCM legend Amy Grant.
He also revealed his upbringing in a home in which he was "only allowed to listen to Christian" music.
"In my house growing up we were only allowed to listen to Christian and gospel music, so as a closeted queer kid Amy Grant was my version of an inspirational diva," he was quoted as saying.
In March, the self-described "gospel & roots musician from the Bible Belt" starred in a one-man drag show called Godless Sheathen: A Drag Comedy Cabaret about "a sinner saved by lace."
A highlight reel of the show featured Blake declaring, "We need some more songs about the Bible that don't sound like they were written by Charles [expletive] Manson!" before singing a song with the lyrics, "And I guess the lesson there /Is God would only hear a prayer /When it came from a person with a c—."
The show also included a bit with a hand puppet Jesus in which the puppet — speaking in what Blake called a "gay voice" — declares, "Yes, I'm gay."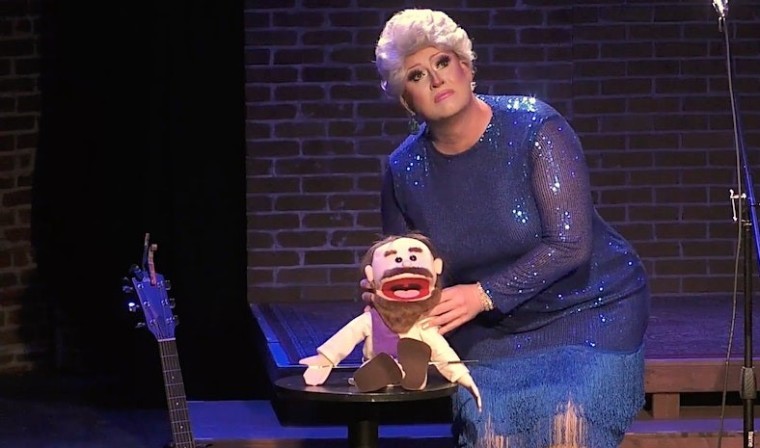 Prior to his collaboration with Blake, Webb featured the drag performer on his 2023 release The Jesus Hypothesis in a song called "Boys Will Be Girls," a video that features both performers in makeup while standing in front of a cross and includes the lyrics, "I heard Jesus loved and spent his life with those who /Were abandoned by proud and fearful men /So if a church won't celebrate and love you /They're believing lies that can't save you or them /Cause you're so beautiful by any name."
Webb, who promoted the video on social media as a "full drag performance," also wrote a song for his new album titled "God in Drag," in which he appears to mock the biblical notions of Heaven and Hell:
"You've heard it said /Oh, God so loves but he'll reject you /If you so choose he will respect you /And for all time, he'll disconnect you /From his love and those who've left you /And in the skies live on without you /While the devil's flames surround you /In the place that he designed to /For eternity remind you /Of the choice that's now behind you /Either way, I bet you'll break a sweat."
In a Facebook post on Monday, Webb defended the video, saying, "If lovin' you is demonic, I don't wanna be Christian."
In an interview with Sojourners earlier this month, Webb said he wrote the song "for a dear person in my life who came out to [him] just a few years ago" and compared performing in drag for the "Boys Will Be Girls" video to the Incarnation of Christ.
"There is something about the experience of being put in drag by Flamy Grant that did feel incarnational to me," he was quoted as saying. "And I think that's a great analog to the work that Jesus did, and the power that incarnational risk has."
Free

Religious Freedom Updates

Join thousands of others to get the FREEDOM POST newsletter for free, sent twice a week from The Christian Post.