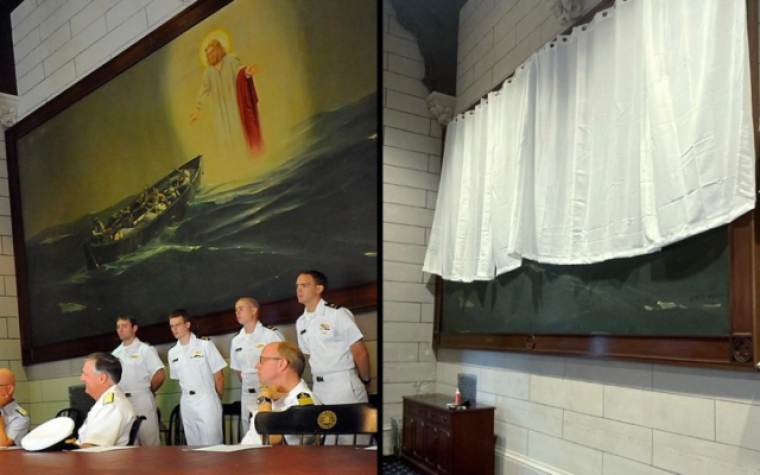 A Republican congressman is investigating the gender transition policies of federal service academies after the revelation that the U.S. Merchant Marine Academy is allowing midshipmen undergoing gender transition to request exemption from their military service requirement.
"My office will be contacting the heads of each service academy for copies of their gender transition policies," Rep. Jim Banks, R-Ind., exclusively told The Christian Post.
"I am deeply concerned about the precedent of allowing students who decide they want to switch genders to be waived of any service commitment. This is dangerous, disrespectful, and anti-American."
Banks' comment comes following a report from The New York Post detailing how the USMMA in Kings Point, New York, implemented a policy effective Oct. 13 that stipulates midshipmen "with a diagnosis indicating that gender transition is medically necessary" are to be treated "in the same manner, and to the same extent, as to students with other medical conditions that impact a student's ability to matriculate, graduate and fulfill their service obligation."
The policy follows President Joe Biden's 2021 executive order calling on federal agencies to combat discrimination based on sexual orientation or gender identity. 
Banks, who chairs the House Anti-Woke Caucus, sent a letter to the USMMA last Friday about the policy that was also signed by Reps. Jeff Duncan, R-S.C.; Mary Miller, R-Ill.; Harriet Hageman, R-Wyo.; Scott DesJarlais, R-Tenn.; Doug LaMalfa, R-Calif.; Glenn Grothman, R-Wis.; and Matt Rosendale, R-Mont.
The letter demanded to know why "gender dysphoria [is] considered a 'medically disqualifying condition?'"
"We are disturbed by the policy guidelines that would allow Midshipmen who identify as transgender during their third or fourth year at USMMA to receive a medical waiver from their obligated service," the lawmakers also wrote, according to the New York Post.
"This creates a dangerous avenue for exploiting our nation's prestigious service academies," they also said.
USMMA parents who spoke to The Post on condition of anonymity expressed concern that the gender policy could negatively impact the midshipmen, whose academy has been rocked with allegations of sexual assault in recent years.
"The school has gone through great lengths to try to improve the safety regarding sexual assault on campus and out at sea. Now, this policy reverses the good work that has been accomplished," one parent said.
"I fear for the young women that will be forced into uncomfortable positions as biological males with all of their anatomy are introduced as roommates and into the women's communal, locker-room style showers that are at the school," the parent continued.
Multiple midshipmen told Fox News Digital earlier this year that "woke" ideology has been seeping into the academy under the leadership of Transportation Secretary Pete Buttigieg.
The USMMA made headlines earlier this year for removing a painting of Jesus Christ from its Elliot M. See conference room, where it adorned the school's administrative Wiley Hall for 76 years until it was placed in the school's chapel after a letter of complaint from Mikey Weinstein, founder of the Military Religious Freedom Foundation.
The USMMA did not respond to CP's request for comment by the time of publication.
Free

Religious Freedom Updates

Join thousands of others to get the FREEDOM POST newsletter for free, sent twice a week from The Christian Post.