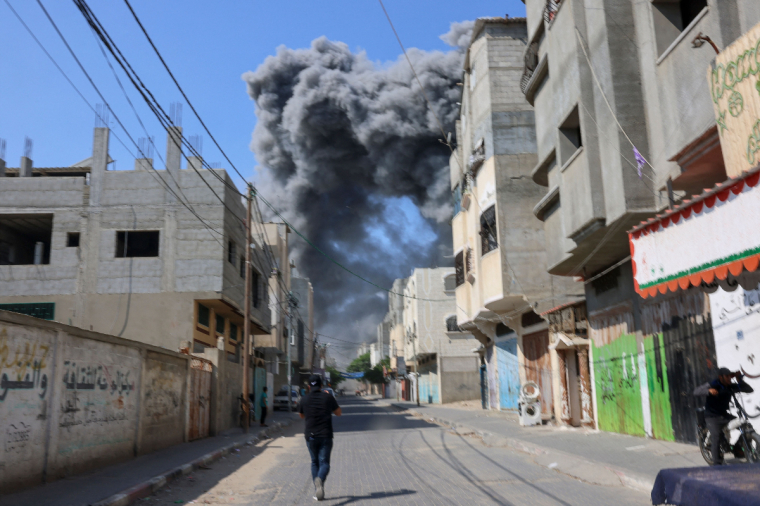 Israel Defense Forces released audio of a Gazan man telling an officer that Hamas is blocking civilians from fleeing the northern Gaza strip and that the terrorist group is shooting at people attempting to heed Israel's warnings to evacuate. 
The IDF has repeatedly urged civilians to move to the south of the Gaza Strip as it prepared for a ground assault to eradicate Hamas following the group's Oct. 7 attack on Israeli civilian communities that killed over 1,400. Around 230 others were seized as hostages. 
In an audio recording released by the IDF on X Thursday, an officer in the Military Intelligence Directorate's Unit 504 is heard speaking to a Gazan civilian, instructing the man to evacuate for his safety. 
The IDF officer urged the man to move toward Khan Yunis, a city in the southern Gaza Strip. The man said that Hamas is blocking the roads and sending people back home. The man also said that Hamas is shooting at people who are attempting to leave the area. 
"Hamas continues to use the civilians of Gaza as human shields, not allowing them to evacuate," the IDF stated in its tweet. 
As The Times of Israel reported Thursday, Unit 504 had been calling people in northern Gaza within the last few days and instructing them to leave to prevent civilian casualties. Israel intends to focus on northern Gaza, the reported location of tunnels and bunkers used by Hamas. Before the Oct. 7 attack, over 1 million people lived in northern Gaza. 
The United Nations estimated that about 700,000 Palestinians heeded the order. Israel estimated last week that around 350,000 Palestinians remained in northern Gaza. The U.N. stated that as many as 1.4 million out of a population of about 2.3 million Gazans have been displaced. 
Over the weekend, Israel sent ground troops into Gaza and launched the next phase of its war with Hamas. IDF says the ground campaign will target Hamas' military capabilities and aim to secure the release of hostages.
According to the report, the Hamas-run health ministry in Gaza claims more than 7,700 people have been killed in Gaza since the war started earlier this month.
As The Times of Israel notes, the number of casualties is difficult to verify, as the numbers reportedly include people killed in a blast at a Gaza hospital that both sides have blamed each other for causing. 
Hamas blamed Israel for the explosion at the hospital, but the IDF and the Biden administration say that Israel was not responsible. Both British and French military intelligence said that it was caused by an Islamic Jihad rocket aimed at Israel falling on a hospital parking lot.
Free

Religious Freedom Updates

Join thousands of others to get the FREEDOM POST newsletter for free, sent twice a week from The Christian Post.