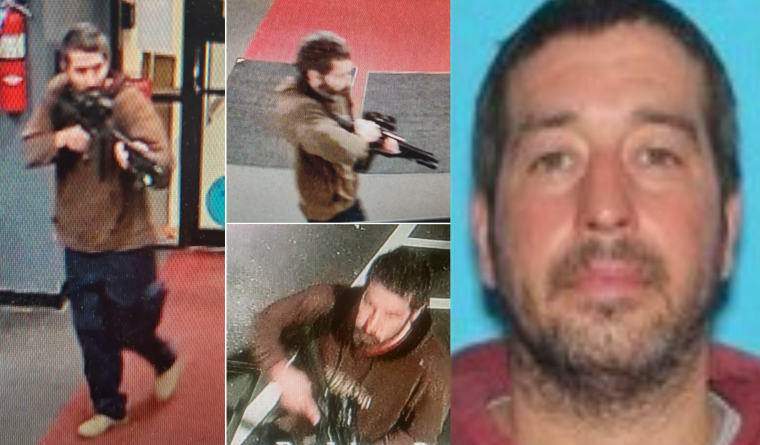 The body of the suspected shooter in Wednesday's Maine rampage that left 18 dead and 13 injured was found dead ending a two-day manhunt, according to officials.
Robert Card, the man accused of the mass shooting in Lewiston, was found dead near the Androscoggin River in Lisbon Falls, state Public Safety Commissioner Michael Sauschuck told reporters during a press conference Friday evening. 
He confirmed reports that Card's body was found with an "apparent self-inflicted gunshot wound." 
Card's body was found near a recycling center where he had recently been fired. His vehicle was abandoned near a boat launch in the Lisbon area earlier in the week. Details surrounding the exact time of Card's death remain unclear, according to Sauschuck.
The manhunt involved hundreds of officers and affected southern Maine communities. Shelter-in-place orders were issued, and schools and businesses were closed. The search extended to waterways due to a note, akin to a suicide note, left by Card, a law enforcement source told CNN. 
Authorities executed multiple search warrants, including Card's vehicle and properties.
Law enforcement sources also said that Card had purchased the gun used in the massacre legally just days before he was ordered to undergo psychiatric evaluation.
Card served as a sergeant first class in the Army Reserve who had enlisted in December 2002 and was assigned to the 304th Infantry Regiment in Saco, Maine.
Officials are looking into a recent incident at Camp Smith in Cortlandt, New York, where he was reported for acting "belligerently and possibly intoxicated." He was subsequently hospitalized.
Card had told Army personnel he was "hearing voices" and thinking of "hurting other soldiers," a federal law enforcement source told CNN. These events occurred shortly after he had bought a high-powered rifle at a Maine gun store, the sources added. The weapon found in Card's car appears to be the same one used at the shooting locations, although a ballistics match is pending.
Late Friday, Maine Gov. Janet Mills expressed relief, saying the threat Card posed was over and the community could begin to heal.
"Lewiston is a special place. It is a closeknit community with a long history of hard work, of persistence, of faith, of opening its big heart to people everywhere," she said in a statement. "Tonight, the city of Lewiston and the state of Maine begin to move forward on a long road to healing."
Police on Friday identified the victims of the shootings at the Just-In-Time Recreation and the Schemengees Bar and Grille Restaurant on Wednesday.
The 18 victims have been identified as Ronald G. Morin, 55; Peyton Brewer-Ross, 40; Joshua A. Seal, 36; Bryan M. MacFarlane, 41; Joseph Lawrence Walker, 57; Arthur Fred Strout, 42; Maxx A. Hathaway, 35; Stephen M. Vozzella, 45; Thomas Ryan Conrad, 34; Michael R. Deslauries II, 51; Jason Adam Walker, 51; Tricia C. Asselin, 53; William A. Young, 44; Aaron Young, 14; Robert E. Violette, 76; Lucille M. Violette, 73; William Frank Brackett, 48; Keith D. Macneir, 64.
Schemengees stated on Facebook that its manager, 57-year-old Joseph Walker, was among those killed. 
"We loss great people in this community," the restaurant posted. "How can we make any sense of this. Sending out prayers to everyone."
Just-In-Time Recreation, formerly known as Sparetime, said in a statement they had lost "amazing and whole-hearted people."
Free

Religious Freedom Updates

Join thousands of others to get the FREEDOM POST newsletter for free, sent twice a week from The Christian Post.