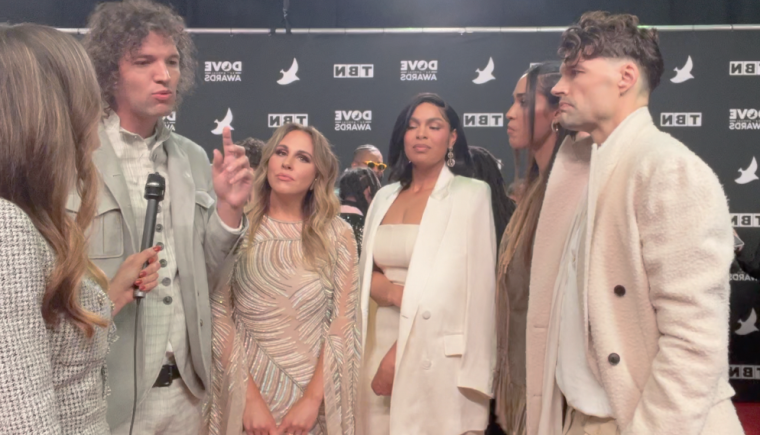 NASHVILLE, Tenn. — Grammy Award-winning duo "for King & Country" has weighed in on the crucial role Christian music plays in spiritual formation and how spirit-filled songs offer a "peek into what Heaven must be like."
"Someone could be going through a very, very typical thing in their lives, and you can play a song, and it can go for about three minutes and 30 seconds, and all of a sudden, something in that space transforms who they are," Luke Smallbone of for King & Country told The Christian Post at the red carpet ahead of the 2023 Dove Awards.
"I think that gives you a little bit of a peek into what Heaven must be like because I don't know anything else that can have that type of impact. No sermon, for the most part, transforms the condition of someone's soul so quickly." 
"I think that develops people spiritually," the Australian native continued. "I think it's very, very rare when you see someone with a great joy who is singing songs to God, that they are struggling or barely making it. They usually have a joy that is innate, that is indescribable. And I think it's a spiritual practice."
Jordin Sparks, who performed "Love Me Like I Am" alongside for King and Country at the awards show, highlighted what sets Christian music apart in an increasingly tumultuous world. 
"What is special about this throughline with Christian music is that there's always an underlying message of hope. And there's always an underlying message of love. And there's always an underlying message of 'you can do this,' and 'we can get through this together,'" she said. 
Sparks emphasized the inclusivity and acceptance found within the genre, which stands in stark contrast to some other forms of music.
"Some other genres are very exclusive," she noted, "but Christian music is about people being in this together. It's about loving you as you are and coming as you are."
The artist also highlighted the role of Christian music as a source of solace and unity amid increasingly tumultuous times. 
Moriah Peters Smallbone, wife of for King & Country singer Joel Smallbone, emphasized the importance of music as a bridge between cultures and people.
"We try to be a bridge, projects that bring cultures and people groups that seemingly have nothing in common together," she explained. "There's this underlying thread, this consistent message. Unity is incredibly valuable in a time where people are increasingly divided."
For King & Country and Sparks were nominated for Pop/Contemporary Song of the Year for "Love Me Like I Am," an award that ultimately went to Blessing Offor for "Brighter Days."
Joel Smallbone voiced his gratitude to Sparks, a Grammy-winning artist, for collaborating with the duo for the song: "Someone got on a plane with her husband from LA," he recounted. "Someone performed 'Love Me Like I Am' live last year at the San Diego Zoo before she even tracked the song with the band. Someone is very gracious and gracing this stage tonight."
In April 2024, "Unsung Hero," a film focusing on the Smallbone family's journey to the United States from Australia, is slated to release. The film follows the upbringing of the Smallbones, along with their siblings, including artist Rebecca St. James. It will also reportedly introduce the world to Helen Smallbone, the family's matriarch, whose faith helped her family of nine remain resilient amid the struggles of life. 
The film stars Joel Smallbone, along with Daisy Betts, Kirrilee Berger, Jonathan Jackson, Lucas Black, Candace Cameron Bure, Terry O'Quinn and Lady A's Hillary Scott.
"It's really a movie about our parents," Joel Smallbone told CP. "It's a true story, a 90's film … we've gotten to do a lot of really special time in our time as creatives, but being able to tell this story … is one of the most meaningful things we've ever been a part of … we're ready to get the word out about it."
Free

Religious Freedom Updates

Join thousands of others to get the FREEDOM POST newsletter for free, sent twice a week from The Christian Post.