Man who reportedly tried to enter concert without a ticket shot by police after he stole a tractor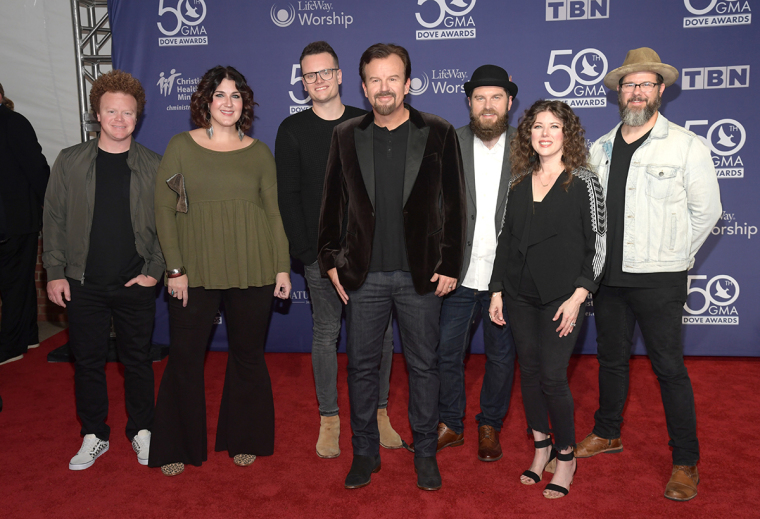 After two decades atop the Christian music charts, Casting Crowns is touring the country — and attracting some drama on the way.
The Grammy Award-winning band is on the road for the Casting Crowns' 20th Anniversary Tour: A Live Symphony Experience, with tour stops scheduled from California to Texas and all the way to New York. But it's fair to say the month of October might have been the most eventful of the tour so far.
On Oct. 6, during a stop in Topeka, Kansas, one of the band's trucks was stolen while they performed at the Topeka Performing Arts Center, according to reports.
Police told NBC affiliate KSNT-TV that officers were called out around 10:30 p.m. to help recover a stolen semi-truck, which was later found with minor damage a few miles from the venue.
A 39-year-old woman named Stacie Sayles was arrested in connection with the theft, according to police. She was later booked on charges of vehicle burglary, theft of $100,000 or more from a motor vehicle, felony criminal damage, and driving with a suspended license, according to KSNT-TV.
In response to her arrest, Casting Crowns frontman Mark Hall called on fans to pray for the woman.
"Can you please join me in praying for Stacie? Pray that she will sense God working in her heart and that she will surrender to Him. She's so much more than a thief. She's a soul that needs a Savior," Hall wrote in an Oct. 7 Instagram post. 
Less than two weeks later, during a performance at the University of Texas Permian Basin in Odessa, Texas, a man who tried to enter the event without a ticket was later shot by police after he stole a tractor and drove the vehicle onto a highway, according to one local report.
At one point, officers said the driver ran into at least two police vehicles and "purposely" drove the tractor toward officers, who opened fire and shot the suspect.
The suspect, who has not been identified, was hospitalized in critical condition. No officers or concert guests were injured.
Calling it "another unusual night," Hall shared a drone video on Oct. 22 from the police pursuit and recounted the moment he saw the vehicle approach the venue.
"We saw the lights from a distance, and as they got closer, we realized it was a front-end loader driving through the parking lot. It began driving in circles and running over trees in the medians," said Hall. "We called inside and let our people know what was going on as we watched officers with guns drawn, trying to talk the man out of the tractor. 
"He made his way through the parking lot and that's where police officers met up with him in the road."
Police fired as many as 100 rounds at the suspect, Hall said, adding that the suspect was identified as the same person who attempted to get into the concert venue hours earlier.
Hall again urged his fans to offer prayers for the suspect's "mental health."
"I don't have any information on his name, but can you guys pray for him? Mental health struggles are heightened by so many things but with all that's going on in the world right now, I think tensions are high with all of us," he wrote.
The Christian Post reached out to a Casting Crowns spokesperson for comment Monday. This story will be updated if any response is received.
Free

Religious Freedom Updates

Join thousands of others to get the FREEDOM POST newsletter for free, sent twice a week from The Christian Post.