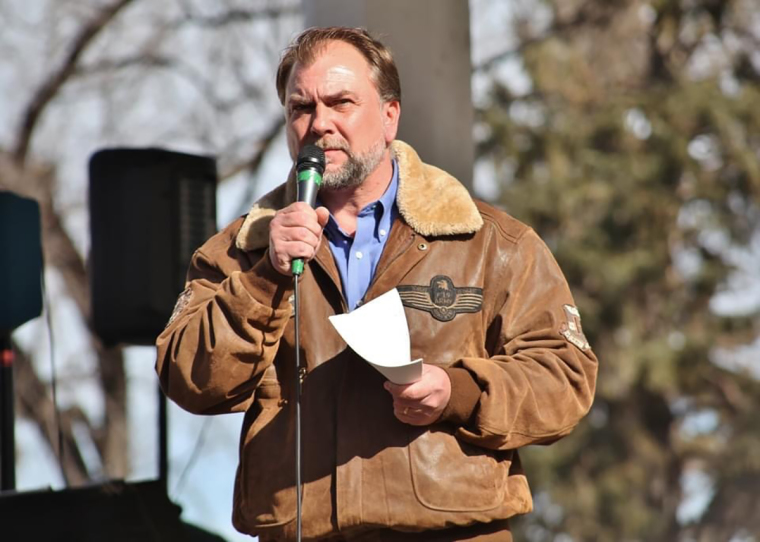 A Canadian pastor found guilty of mischief for delivering a sermon to truckers blocking the U.S.-Canada border last year is appealing the verdict in what he described as a battle on behalf of all Canadians.
"It's outrageous," Pastor Artur Pawlowski, who pastors the Cave of Adullam congregation in Calgary, told The Christian Post on Wednesday. "If a pastor can be arrested and found guilty of those ridiculous charges, anyone can be."
Last month, an Alberta judge found Pawlowski guilty of mischief and breaching a release order related to a 19-minute sermon he delivered to truckers protesting federal vaccine mandates in February 2022, which authorities claim incited the protesters. 
In his sermon, Pawlowski urged the truckers blocking the border crossing in Coutts, Alberta, to "hold the line" against the government without resorting to violence.
Days later, he was arrested by the Calgary Police Service and served 51 days in two separate prisons, where he alleged authorities abused him, placed him in a small cage, and tried in vain to instigate other inmates to hurt him. He was later placed under house arrest until his trial last month.
The judge sentenced him on Sept. 18 to 60 days in jail but credited him with the 78 days of pre-trial detention he served and allowed him to go free. Even so, Pawlowski said he intends to fight the charges against him. His attorneys filed an appeal in the Court of Appeal of Alberta on Sept. 25 but do not expect it to come before a judge until sometime next fall.
"Truly, the notion that 'the process is the punishment' is true because they're dragging this out forever," Pawlowski told CP. "It's supposed to be swift justice; it's supposed to be as soon as possible, but the system in Canada is forever and ever draining your finances and time."
Pawlowski first made international headlines in March 2021 when he ordered public health officials and police out of his church as they attempted to inspect it for COVID-19 compliance during an Easter service.
Since then, the pastor has been continuously entangled with Canadian authorities. He was arrested five times for conducting church services in violation of a court order, including once in the middle of a busy highway and another time on the tarmac of Calgary International Airport.
Pawlowski told CP that he keeps fighting because he fears his treatment could set a precedent for others having their rights violated.
"Remember, I was not an organizer [of the trucker protest], I was not blocking anything," he said. "I just cheered people up who were suffering greatly because of what the totalitarian regime did to them. And for that, I was found guilty and criminally convicted."
"So this is not just a case for Artur Pawlowski," he added. "This is a case for every free Canadian if you want to remain free. And whatever is happening in Canada, it just goes to the United States, and Australia, and England. It infects everywhere."
Sarah Miller, Pawlowski's attorney, echoed her client, telling CP that Pawlowski's appeal addresses fundamental legal issues.
"In our legal research, what we were able to uncover [is that] there's not previously been a conviction of this nature, where a person does not participate in the protest or blockade, but they attend to speak," Miller said.
She offered the similar situation of more than 1,000 protesters arrested earlier this year for demonstrating against old-growth logging in British Columbia.
"If I were to tell you I'm in favor of the [logging protesters], does that mean I'm now inciting mischief because I'm expressing support for them? It's an important legal question from a civil liberties perspective."
Pawlowski, who potentially faced 10 years in prison for allegedly violating Alberta's Critical Infrastructure Defence Act with his sermon, worries for the future of free speech in Canada and worldwide.
"Whatever is happening here [in Canada], politicians in other countries are monitoring," Pawlowski said. "And if our politicians can get away with this, other politicians will say, 'Well, we can get away with that, as well.' This has become a global fight for freedom."
Free

Religious Freedom Updates

Join thousands of others to get the FREEDOM POST newsletter for free, sent twice a week from The Christian Post.