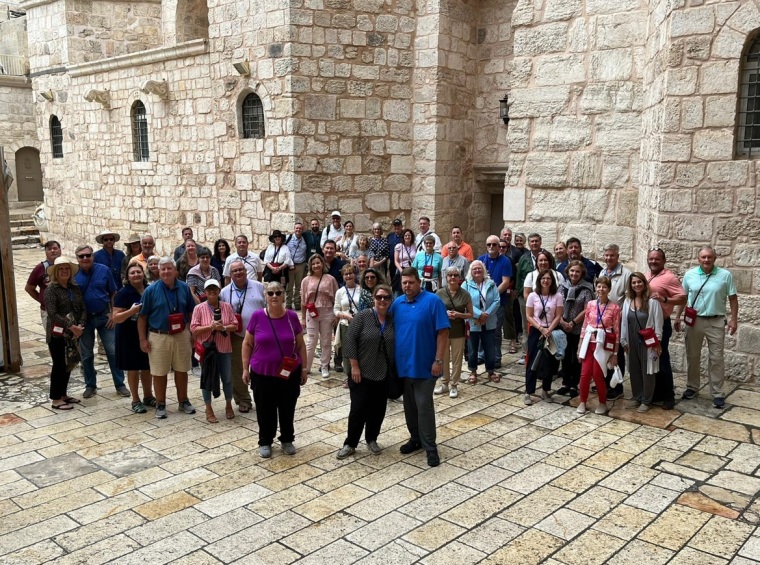 A Florida church tour group of 54 people who had been in Israel when Hamas first launched its attack in the southern part of the Middle Eastern nation has returned safely to the United States.
Travelers who joined an annual tour of the region with members of First Baptist Church of Fernandina Beach arrived home safely late Sunday, among them being Senior Pastor Zach Terry.
In an interview with The Christian Post, Terry recalled that when his tour had "first received word that something had happened, it caught us off guard."
"We had just finished sailing on the Sea of Galilee and were preparing to enter a local museum. We discovered the museum had closed due to a militant attack in Southern Israel," he recounted.
"I gathered with our local tour guides, and we verified the information and gained as much info as we could. We decided to inform our group before they heard it on social media."
Terry told CP that there had been "a lot of uncertainty about whether this was a skirmish or something that might escalate," however, as time passed, "things were moving toward an all-out war."
"We spent three nights in Jerusalem before we could arrange accommodations in Jordan. Our tour bus took us to the Jordanian border, where we had arranged for another bus — Jordanian — to pick us up after we passed through the border control," he said.
"I don't think I fully relaxed until we were back in Jacksonville, Florida. Many familiar faces were gathered at the airport to greet us. It felt great to be home."
The FBC Fernandina Beach tour group was one of many church-supported trips to the Holy Land which found itself in Israel not far from where the terrorist attacks were launched on Oct. 7.
Last week, a group of around 50 people in a tour group hosted by Sunnyside Baptist Church of Kingsport, Tennessee, safely returned to the U.S. from Israel.
Angie Baker, a member of Sunnyside who was on the Middle East trip, told The Christian Post in an earlier interview that her tour group was at the historic site of Masada when the attacks began.
"We were gathered together listening to our tour guide explain some of the things we were seeing in relation to King Herod and the buildings he had built on the grounds," Baker said.
"During this time, we heard a single, loud boom. Our tour guide's phone began to get text messages immediately. Another tour guide came up, and they spoke to each other in their native language."
Her group was able to leave the country on a predawn flight via Turkish Airlines from Tel Aviv to Istanbul, Turkey, and then took a flight from Turkey to Atlanta, Georgia.
On Oct. 7, Hamas militants launched extensive and unexpected attacks on Southern Israel, killing over a thousand civilians and taking many Israeli soldiers and civilians hostage.
In response, Israeli Prime Minister Benjamin Netanyahu declared war and Israel engaged in ongoing retaliatory airstrikes. 
Hamas killed more than 1,400 people in Israel, including 30 Americans, and wounded more than 3,400. The terrorist group is also holding as many as 199 people hostage, some of whom are Americans. 
The Health Ministry in Gaza said Tuesday that at least 3,000 people in Gaza had been killed and over 12,500 wounded. 
Free

Religious Freedom Updates

Join thousands of others to get the FREEDOM POST newsletter for free, sent twice a week from The Christian Post.