'This evil does not represent God,' Evangelical leader tells EU Parliament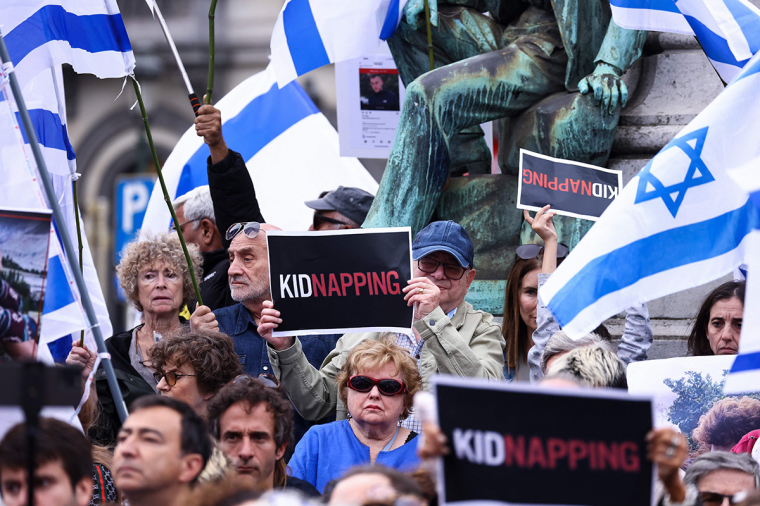 American Evangelical leader The Rev. Johnnie Moore is calling on the European Union to step up its support for Israel following the attacks which he said "materially involved" Iran. 
Moore, who is the president of the Congress of Christian Leaders and was appointed twice as commissioner on the U.S. Commission on International Religious Freedom, delivered a speech on Oct. 11 at the European Parliament in Brussels in which he warned about the "evil" behind the attacks by Hamas that have killed more than 1,300 Israelis. At least 27 Americans have been confirmed dead and 14 are unaccounted for and might be held hostage by Hamas.
To provide perspective on the scale of the attack, Moore said the terror attacks on Oct. 7 were the equivalent of up to "50,000 Americans being massacred in a single city and another 10,000 to 20,000 taken hostage."
"The scale is shocking, but brutality was an act of cowardice," he said, adding Hamas "went from village to village and then from house to house massacring children, women and the elderly."
Moore said despite the repeated calls by Hamas and other Islamic terror groups for jihad against "the Zionist state," this attack has nothing to do with religion.
"This evil does not represent God, does not represent religion and does not represent a just future for the Palestinian people," he said.
The Wall Street Journal reported that Iranian security officials helped plan Hamas' attacks. While a European official and an adviser to the Syrian government corroborated Iran's involvement, U.S. officials said they had not seen evidence of Iran's involvement.
Iran's Supreme Leader Ali Khamenei and other senior Iranian officials, meanwhile, praised the assault and said his country "kisses the hands" of those behind it.
Moore pointed to these and other comments to support the claim that the attacks "materially involved the Iranian regime."
"No one in this compound can deny that Hamas receives its funding, its weapons, its training and other material support, from the Islamic Republic of Iran," he said. "This whole event, scheduled long before this attack, is about the Iranian Regime and its representatives."
He said it's not just Jews and Israel that Iran's leaders hate, but also Christians: Moore quoted a Hamas commander as saying, "The entire planet will be under our law, there will be no more Jews or Christians traitors."
In his address, Moore repeatedly compared Hamas' atrocities with the Holocaust, including describing the attacks as the "worst massacre of Jews since the Holocaust."
"Let me be as clear as possible: this week … a representative of the Tehran tyrants, an [Islamic Revolutionary Guard Corps] IRGC representative, committed the worst massacre of Jews since the Holocaust," he said.
"It was a pogrom. It was genocidal. And everything must change in this [EU Parliament] compound because of this."
Moore, who is also vice president of the Board of Directors of the International Community of Christians and Jews, noted that many of the victims killed in the attacks were "not just Israelis" but were also American, British, French, German, Brazilian, Thai, Cambodian, Spanish, Argentine, Canadian and others.
"They literally committed an act of terror against the world," he said.
In offering his recommendations for the EU, Moore also criticized a statement from EU High Representative for Foreign Affairs and Security Policy, Joseph Borrell, which failed to mention — "much less condemn" — Hamas.
That statement, said Moore, "traces a moral equivalence between the democratic State of Israel and a terrorist regime that holds the future of Palestinians in Gaza, a terrorist regime that massacres babies in front of their parents and burns entire families alive."
He urged the EU to "give Israel all the support it needs now" while also making "no distinction between the Islamic Republic and its representatives" in an apparent reference to Iran's support for Hamas.
"If the representatives cause harm, then punish the Islamic Republic," Moore added.
He also called on EU officials to follow the lead of the U.S. and designate the IRGC and Hamas as terrorist organizations, and to prevent any future EU funds from going to Hamas. Moore also called for a review of "all additional aid to the Palestinians to ensure that it does not undermine peace."
Moore also called for the renewal of U.N. restrictions on ballistic missiles to Iran and a return to sanctions, which he said was "more than justified."
Lastly, Moore warned officials to protect Jewish communities in Europe from "the rise of anti-Semitism being seen across Europe and the world in pro-Hamas demonstrations."
Pointing again to the Holocaust, Moore warned Hamas' attacks on Israel "could again mark the end of justice unless the world now joins in a collective response."
"There is no place for moral ambiguity here," he added. "This is the time to choose."
Free

Religious Freedom Updates

Join thousands of others to get the FREEDOM POST newsletter for free, sent twice a week from The Christian Post.