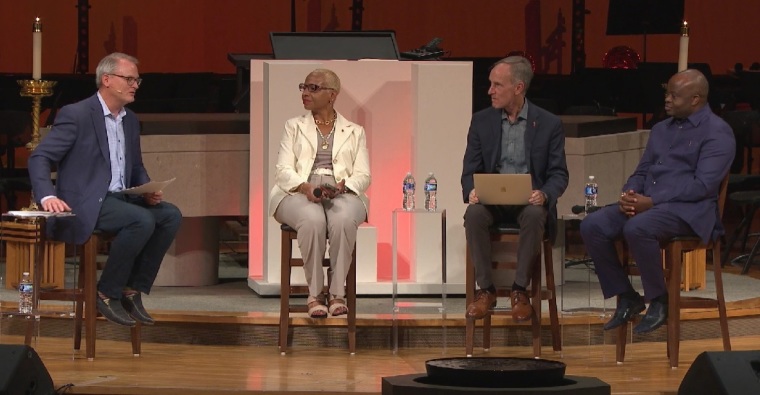 United Methodist Church bishops have expressed optimism over the direction of their denomination after more than 6,400 congregations have voted to leave, with some saying the aftermath of the separation within their conferences has felt like a "revival." 
The Church of the Resurrection of Leawood, Kansas, a UMC megachurch headed by the Rev. Adam Hamilton, held a panel of three bishops at its Leadership Institute late last month.
Moderated by Hamilton, the panel included East Ohio Bishop Tracy Smith Malone, Florida Bishop Tom Berlin and Bishop Mande Muyombo of the Congo Central Conference.
The event comes as thousands of UMC congregations have disaffiliated in the past couple of years amid the ongoing debate within the denomination over whether to change its rules to allow for the blessing of same-sex unions and the ordination of noncelibate homosexuals. Although efforts to change the UMC Book of Discipline's stance on these issues have failed, many theological liberal leaders in the denomination have either refused to follow or enforce the denomination's rules.
Hamilton, known for his support for changing the UMC Book of Discipline, began by noting that he had heard from people whose conferences had lost between 20% and 30% of their churches, yet they were "joyful" and said "it felt like a revival."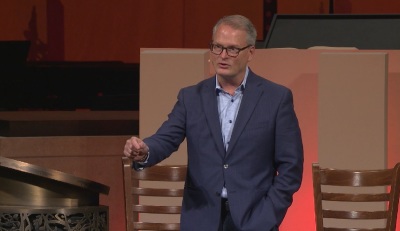 Malone, whose conference had 36% of its member churches (237 congregations) leave, said "it did truly feel like a revival" after they left the regional body's annual meeting earlier this year.
"There was a different spirit in the place," Malone recounted. "It felt like everyone could breathe. There was a renewed sense of hope and excitement, and really believing that we are ready to forge ahead."
"We were tired of the fighting, tired of all of the conversations being dominated by separation, disaffiliation. … People were tired, and the conference was ready and is ready and has already forged ahead."
Malone believes "God is doing a new thing in the East Ohio Conference," saying that she is "hearing the same things from colleagues that there is a renewed sense of hope" about the UMC.
Berlin, who recently became bishop of the Florida Conference, began his remarks by quoting an elder in his regional body who told him, "we're going to be smaller and we're going to be better."
Berlin, whose conference saw more than 100 churches leave since 2019 and is battling a lawsuit from another 71 churches over the disaffiliation," said, "we finally have people who love being United Methodists all together in one place."
"We have been able to release people who just weren't aligned to what we desire to be," he continued. "We are not in tatters, but we do have some tattered edges."
"Healing can come if we will focus on what made Methodism a wonderful movement to begin with, and that is that our strength is that we taught people how to love God, how to love neighbor, and how to love themselves."
Berlin believes that the UMC has "a future with hope."
"Being in a complicated church doesn't bother me," he said.
Muyombo was asked about the situation in Africa, where the UMC is growing quickly. The Congolese bishop predicted that 80% of those in his province "are going to stay United Methodist."
Describing his recent conference meeting as a "revival," Muyombo saw the changes of the UMC in the United States as an "opportunity" for the global denomination "to be decolonized."
"There are individuals who think that they are entitled to speak on behalf of Africans," he said. "Africans have brains, Africans are educated, and Africans believe in Jesus and they read the Bible."
"It is easier to write on social media, to write articles, but it is very difficult live reality. … What you have seen today is, it is not about biblical orthodoxy, it is about colonialism. It's about demeaning people. You know, the same thing you write about an African bishop, I'm not sure if you can write about an American bishop."
The panelists also spoke in support of regionalizing the global UMC, pointing to such things as the Christmas Covenant, which seeks to advance legislation at UMC General Conference that would, among other things, allow different regions to hold different standards on LGBT issues.
There was also a general rejection of the claim that if the UMC changes its rules on LGBT issues, theologically conservative clergy would be forced to bless same-sex unions.
Malone saw the likely future removal of the rules as advancing "freedom" and "reason of conscience and choice" and that "no one will be forced" to do anything.
Berlin also rejected the notion that changing the rules would result in pastors being forced to celebrate gay marriages, stating that "we don't require anybody to do any wedding."
"I mean, do we really want to micromanage weddings?" he said, getting a few laughs from the audience. "I'd quit before that happens."
According to numbers compiled by UM News, as of Wednesday, 6,410 congregations have disaffiliated from the UMC, representing about 20% of the U.S. membership of the denomination. 
Of the congregations that have left, around 3,000 of them have opted to affiliate with the Global Methodist Church, a recently launched theologically conservative denomination.
Free

Religious Freedom Updates

Join thousands of others to get the FREEDOM POST newsletter for free, sent twice a week from The Christian Post.