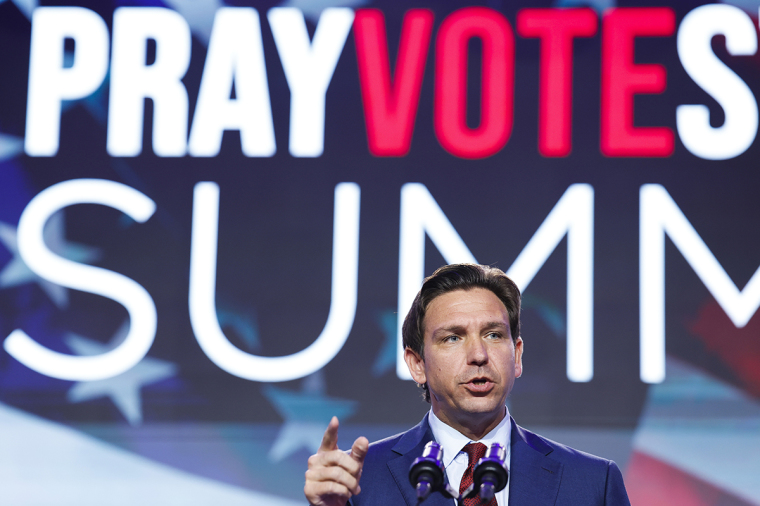 As a debate between the governors of two of the nation's largest states is scheduled to take place next month, a new poll reveals which of the two states Americans would rather live in and which of the two governors with competing worldviews they would vote for in a hypothetical presidential election featuring the two candidates.
The Daily Mail released a poll Saturday, two months to the day before California's Democrat Gov. Gavin Newsom and Florida's Republican Gov. Ron DeSantis are slated to face off in a head-to-head debate in Georgia. The survey, which sampled the opinions of 1,000 likely voters between Sept. 15-20, found that 47% of Americans would rather live in Florida, while 40% would prefer living in California.
Additionally, in a hypothetical head-to-head matchup where Newsom was the Democratic nominee for president and DeSantis was the Republican nominee, 43% of voters would choose DeSantis, and 39% would pick Newsom.
While Newsom has repeatedly denied any interest in running for president, DeSantis is seeking the Republican nomination for president and is currently trailing former President Donald Trump by a wide margin in the RealClearPolitics average of polls examining the preferences of Republican primary voters.
The crosstabs of the poll show that Democrats would overwhelmingly prefer to live in California, while Republicans are much more enthusiastic about the idea of living in Florida. Fifty-seven percent of independents told pollsters they would rather live in Florida. In the hypothetical presidential race, DeSantis secures the support of 81% of Republicans, while Newsom receives the backing of 77% of Democrats.
Forty-three percent of independents would vote for DeSantis while 32% would select Newsom. The data show that 9% of Democrats would back DeSantis over Newsom, while 4% of Republicans would pick Newsom over DeSantis. 
The debate, which will air on Fox News and be moderated by Sean Hannity, comes as the states have taken vastly different approaches on hot-button public policy issues. While Florida has banned body-mutilating trans procedures for minors, such as elective mastectomies for girls and castration for boys, California is one of 14 states that has enacted a "shield" law protecting minors who travel to the state to undergo gender transition procedures and the doctors who perform them from civil or criminal charges if they travel from a state where such procedures are banned.
On the issue of abortion, DeSantis has signed a six-week abortion ban into law, while California voters enshrined a right to abortion in the state constitution as part of last year's midterm elections. Last year, Florida passed a law requiring schools to keep parents informed of any changes to their children's physical, mental or emotional health and forbids them from withholding such information from parents. 
The law attempts to address concerns that schools are keeping parents of trans-identified children in the dark about the fact that their children are suffering from confusion. After Chino Valley School District in California enacted a similar policy, the state filed a lawsuit against it. Additionally, California found itself subject to several lawsuits over the stringent worship restrictions it imposed on churches during the coronavirus pandemic and subsequent lockdowns.
In 2021, both California and Los Angeles County paid a combined $800,000 to Pastor John MacArthur's Grace Community Church of Sun Valley after the pastor was threatened with jail time and went through more than a year of litigation over his church's refusal to abide by the ongoing restrictions he saw as unconstitutional after initially complying. 
Previously, the state had agreed to pay $2.1 million to settle lawsuits filed by churches over worship restrictions.
Florida, on the other hand, became known as one of the first states to offer in-person education options for all students in the fall after the pandemic broke out as well as its comparatively loose COVID-19 restrictions. 
The Daily Mail poll is not the first poll to show DeSantis leading Newsom in a hypothetical presidential contest between the two. A survey of 5,050 registered voters conducted in October 2022 by YouGov and the Rose Institute found DeSantis leading Newsom 51% to 49%. A poll conducted in June 2022 by YouGov and Yahoo News showed Newsom narrowly leading DeSantis 43% to 42%. 
Free

Religious Freedom Updates

Join thousands of others to get the FREEDOM POST newsletter for free, sent twice a week from The Christian Post.