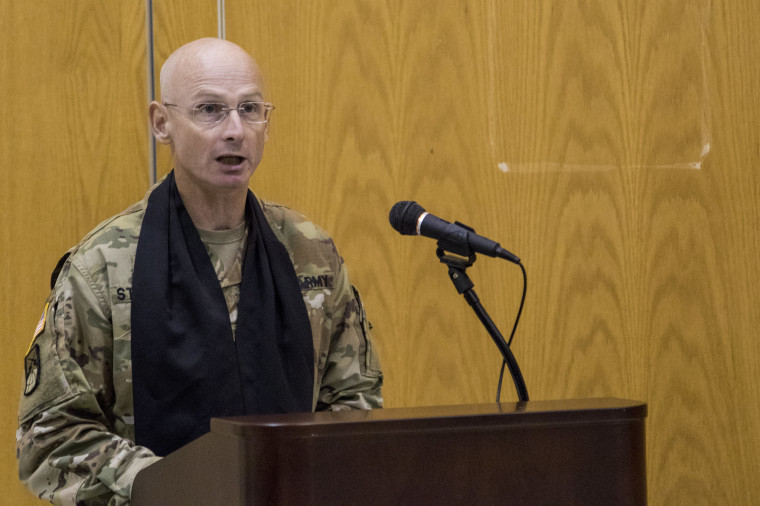 Anthony Stephens, a married former pastor of Our Savior Lutheran Church in Croton-on-Hudson who is also a licensed mental health counselor and attorney, has filed a lawsuit against the Metropolitan New York Synod of the Evangelical Lutheran Church in America after he was defrocked following what he argues is a protected confession of infidelity to a colleague minister.
The 42-page lawsuit filed in May names the MNY Synod, the synod's leader, Bishop Paul T. Egensteiner; the Rev. Christopher S. Mietlowski, assistant to the bishop; Gayle Ruege, Egensteiner's executive assistant; and Andrew M. L. Dietsche, bishop of the Episcopal Diocese of New York of the Episcopal Church (USA), as defendants.
The MNYS responded to Stephens' lawsuit on Friday with a 29-page motion to dismiss, arguing in part that he "cannot legitimately state any of his common law and tort-based claims based on the MNY Synod Council's ecclesiastical decision" to defrock him.
Lawyers for the synod argued that guidelines adopted by the ELCA Church Council, "expressly prohibit a rostered minister from engaging in infidelity or adultery, which the ELCA defines as 'a romantic or sexual relationship with someone other than one's spouse or partner,' and 'voluntary sexual intercourse between a married person and someone other than that person's current spouse,' respectively."
"These ELCA Guidelines for Discipline also expressly provide that 'Rostered ministers who abuse the trust placed in them by engaging in infidelity, adultery, promiscuity, or sexual abuse of another are engaging in conduct incompatible with the character of the ministerial office,'" the synod's attorneys added.
The ELCA, which is the largest Lutheran church body in the United States, also allows same-sex marriages and ordains same-sex clergy.
Stephens did not immediately respond to a request for comment from The Christian Post Tuesday, but he argues in his complaint against the defendants that when he confessed his infidelity to Mietlowski on a call on or around Nov. 14, 2022, he was assured that his confession would be kept in confidence. He said this assurance was given before the confession as well as after.
Within 24 hours of that "guarantee" of confidentiality, however, Stephens alleges that Mietlowski reported him to Egensteiner "in flagrant violation of his guarantees." Egensteiner allegedly then told Stephens' wife, who is also a minister in the church, about his confession.
"Egensteiner called Plaintiff's spouse, The Reverend Lisa M. Stephens, and relying on the privileged information, which Plaintiff had in no way authorized Mietlowski to disclose and had the assurance from Mietlowski that he would not disclose, and, knowing that the material divulged was protected, carried on a conversation with Reverend Stephens on the basis of this information," Stephens' suit says. "Immediately thereafter Reverend Stephens called Plaintiff and noted dryly, in sum and substance, 'Chris's (Mietlowski) idea of confidentiality is obviously very different to yours.'"
Among other things, Stephens contends that he was discriminated against, and his civil rights were violated because ministers who are women, members of the LGBT community, and non-white ministers who had similar failures were not treated as harshly as he was.
Stephens' complaint states: 
Plaintiff is aware, because he has been in MNYS since 2000, and is a psychotherapist in a Lutheran sponsored agency practicing in the MNYS environs, of females in analogous predicaments who have been treated differently by MNYS.

Plaintiff is aware, because he has been in MNYS since 2000, and is a psychotherapist in a Lutheran sponsored agency practicing in the MNYS environs, of gay and lesbian clergy in analogous predicaments who have been treated differently by MNYS. Plaintiff is not LGBTQIA+, even though as a military chaplain, combat veteran, clergyman, therapist, and attorney is recognized as an LGBT ally.

Plaintiff is aware, because he has been in MNYS since 2000, and is a psychotherapist in a Lutheran sponsored agency practicing in the MNYS environs, of persons of color in analogous predicaments who have been treated differently by MNYS.
Lawyers for the MNYS charged that Stephens was on the ELCA roster of ministers from 2002 to 2016 when he served as pastor at Our Savior Lutheran Church. When he left that church, they said he served as a chaplain for the New York National Guard from September 1, 2016, through June 2022.
On March 20, 2023, Stephens then informed the MNY Synod that he was "honorably discharged" from that National Guard chaplaincy which was "fully processed last month." The MNYS charged that because he had no "regularly issued letter of call," at the end of his chaplaincy, he needed to be endorsed by the synod's bishop to get on the roster of ELCA ministers again through a process known as "On Leave from Call."
Stephens, according to church officials, requested that endorsement on March 20. His request was formally rejected at a synod council meeting on April 22, and he was informed of this decision in a letter from Egensteiner on May 2.
"As set forth in the May 2, 2023, letter, the Synod Council took the action to deny Plaintiff's request for 'On Leave from Call' status 'in response to a confirmed report of [his] misconduct as an ELCA Minister of Word and Sacrament,'" stated the attorneys for the church in their motion to dismiss Stephens' lawsuit.
Stephens further argues in his lawsuit that he was also denied a lifelong dream to serve as a parish priest in the Episcopal Church USA because the church "had relied on Egensteiner's representation to suspend Plaintiff's License to Officiate."
"These actions separately and in concert with Egensteiner deeply upset Plaintiff causing or exacerbating Plaintiff's alleged moral injury," the lawsuit says. "Plaintiff was embarrassed, humiliated, disappointed and suffered material loss because of Egensteiner's report and suffered greatly exacerbated emotional distress."
Stephens, who is 61, alleges that he suffered so much as a result of the betrayal of his confidence by the ELCA ministers, he contemplated suicide but never acted on it out of love for his family.
He alleges that his "denial of reception to the priesthood" a job he could have worked in until he was 72, caused him "an expected material loss of approximately one million, five hundred thousand dollars."
Stephens, who told the Daily Beast he hopes his lawsuit will help to restore his ministerial credentials, is also working on restoring his relationship with his wife, whom he says is "a fantastic person, the kindest person you could meet."
Free

Religious Freedom Updates

Join thousands of others to get the FREEDOM POST newsletter for free, sent twice a week from The Christian Post.