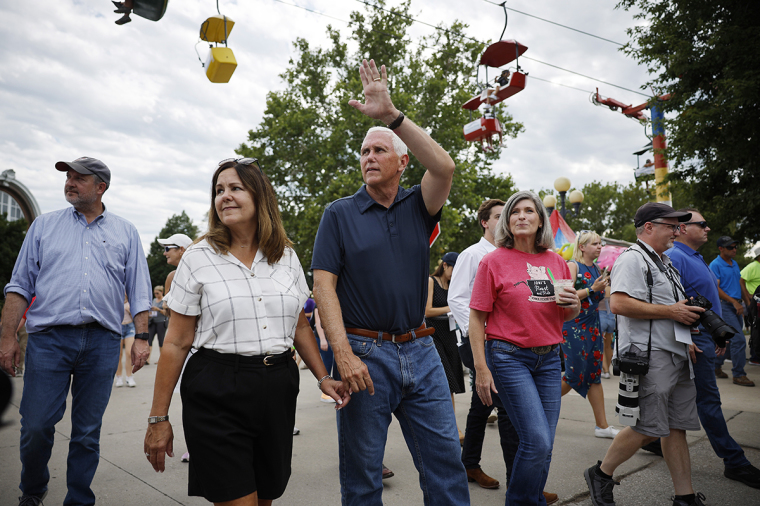 Former second lady of the United States Karen Pence firmly believes God has called her and her husband, Mike Pence, to serve in the public arena — and over the years, she's relied heavily on her faith to help shield her marriage and family amid the clamor of the outside world.
"Mike and I stay in prayer, every day, staying in His Word," she told The Christian Post, adding that in January, she and her husband, a candidate seeking the Republican Party's nomination for president in 2024, committed to reading through the Bible in a year. When the couple launched Mike Pence's campaign for president in June, it came after a time of prayer and deep reflection.
"You would think after 38 years of marriage, we would have done this before now, but we had never actually taken the time each morning to read through the Bible and pray together. We started in January, reading through the Bible," she shared.
"We felt like we weren't sure what God's calling was for our lives right now. And we really wanted His direction. The Bible is just alive; His word is alive, and it's real. When we would read through it every morning — as we still do, we did this morning — it gave us more insight into His nature, and it gives us peace and calm and structure to our life. I think that just being centered in His Word and praying every day is one way to protect against all of the noise that's going on outside."
Inspired by Nancy Reagan, Pence said she also made a commitment early on to protect her family from outside noise. Despite their three children, Michael, Charlotte and Audrey being grown with families of their own, the Pences still prioritize family time. One of her kids' favorite "Mom-isms," she said, is "I'm not going to let what's going on out there affect what's going on in here."
"One of the best things in my life was to be a parent, and it's one of the things that I tried to guard as we entered public life," she said. "I tried to guard that family time and keep that private and not let all the political press and all the negativity come into the house."
Today, when their children and grandchildren visit, the Pences put those dates on the calendar and tell the staff, "These days, the kids are visiting and we're not going to be out campaigning. We're not going to be giving speeches," she said. 
"We protect that time, but it's hard. It's hard now, but it's hard when your kids are little. It's hard when they're involved in all these activities at school and sports and friends. But it's something that we just tried to do. We tried to protect that time; we tried to protect Sundays, especially, and it's helped. But it is tough."
In her new book, When It's Your Turn to Serve: Experiencing God's Grace in His Calling for Your Life, Pence reflects on life in the public eye, from her time as a congressional spouse to first lady of Indiana and second lady of the U.S. But in addition to serving as a politician's wife, Pence worked as a schoolteacher for over 30 years and started her own watercolor business.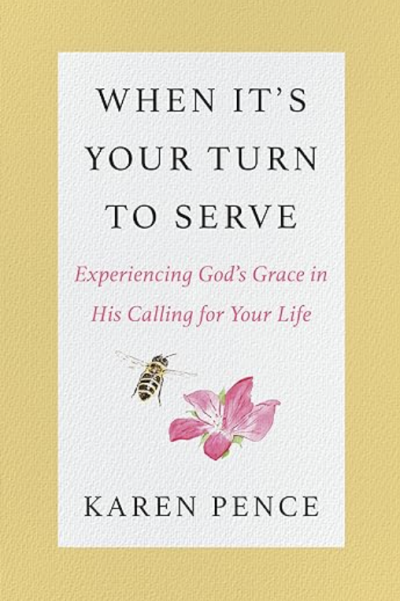 Woven throughout her book is her commitment to service, whatever unexpected role God placed her in, rooted in her deep-seated belief that wherever one feels God's calling, He provides the grace to respond. 
"We did some really important work when I was first lady of Indiana and second lady of the United States, and I wanted to tell that story," she said. "The book really isn't so much a memoir about my life. It's more about what brought me to that stage, where God was calling me to serve in ways I never dreamed He would call me."
"I really wanted the book to be an encouragement to the reader, that if you feel God is calling you, He will give you the grace to answer that call, whether that call is being the head of your block party in your neighborhood or serving on the PTA or whether it's being called to be second lady of the United States. Anywhere He has called me, He has given me the grace to serve."
Pence admitted it hasn't always been easy to trust in God's plan. In her book, she opens up about her battle with infertility and how she and her husband were placed on an adoption waitlist when she discovered she was pregnant with their first child, Michael. The Pences went on to have three children in three years. 
"I want to encourage all those who are out there struggling with infertility, that there are lots of ways to have a family," she said.  
"When they were driving me crazy," she added, "I was able to stop and remember, I almost didn't have this."
Understanding God's call takes discernment and wise counsel, Pence stressed. And when God's calling doesn't make sense, He can handle struggles and doubts, she said, referencing a time when her husband unexpectedly lost his father.
"He was young, he was in his 50s," she said. "And I remember one night Mike left and walked out to this field by our house and was gone for quite a while. When he came back in, I said, 'What happened? Where were you? And he said, 'I just had to have it out with God.' I was shocked at the time because I thought, 'You can't get angry with God. You can't get upset with Him. You can't question Him.' And he said, 'Oh, yes, I can. I have a very personal relationship. And if I'm not real, then that relationship isn't worth anything.' It really helped my faith and my relationship with Christ to grow and be more personal."
To those feeling overwhelmed when it's their time to serve, Pence stressed the need for self-awareness and balance. She recalled how, when initially hesitant to take on the name "First Lady Pence," a college president reminded her that leadership positions are not just about the individual, but the honor and responsibility associated with the role.
"God has put this cloak on you," he told Pence. "It's God lifting you up to this position. You honor them as the First Lady when you interact with people."
"He said, 'You need to step up and wear the mantle,'" she recalled. "It was such great advice for me because I think even when we do feel overwhelmed, God does give us the grace. Sometimes, I'm overwhelmed because I'm trying to do too much. And I need to learn to set my priorities."
In the weeks and months ahead, Pence said she's grateful for the numerous individuals who continuously keep her and her family in their prayers as they seek to follow God's calling on their lives.
"We can feel [the prayers], because we can feel the peace and the calm and the steadiness in our life that, honestly, we shouldn't be able to feel," she said. "We live such a crazy life right now. We shouldn't feel this calm and peace, but we did because so many people pray for us. 
"Whenever people ask me, 'How can I pray?' I always ask them to pray for protection — spiritual, emotional, physical protection for us in this life and for our family, too, because I think when you're on the front lines, you're in the middle of spiritual warfare all the time. … We just asked for prayer for protection as we follow this calling right now."
When It's Your Turn to Serve: Experiencing God's Grace in His Calling for Your Life releases later this month.
Free

Religious Freedom Updates

Join thousands of others to get the FREEDOM POST newsletter for free, sent twice a week from The Christian Post.