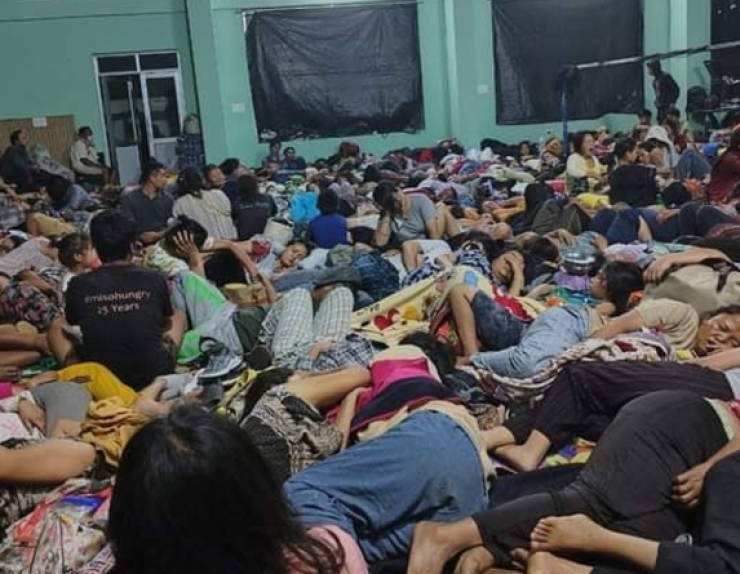 U.N. experts have appealed to Indian government over the ongoing violence in Manipur, which has left 187 dead, 70,000 displaced and hundreds of churches destroyed amid ethnic and religious tensions.
Nineteen independent experts with the U.N. Human Rights Council have noted that Christians have been disproportionately impacted, saying the violence was incited by hateful speech against the Christian Kuki-Zo minority, particularly women, due to their ethnicity and religious beliefs.
The conflict involves Manipur's largely Hindu Meitei and largely Christian Kuki-Zo tribes. The UN experts also expressed alarm over the misuse of counter-terrorism measures against ethnic and religious minorities, the human rights group ADF International said in a statement.
Giorgio Mazzoli, director of U.N. Advocacy for ADF International, said the crisis has reached "a breaking point."
"It is past time for Indian authorities to not just quell the continuing violence, but to eradicate any laws and policies that interfere with or curtail the enjoyment of religious freedom and perpetuate the persecution faced by religious minorities," Mazzoli said.
From May 3-6, violence resulted in more than 100 deaths and hundreds of injuries.
A human rights lawyer allied with ADF International, who wished to remain anonymous for security reasons, said Christians are facing hostility from Meiteis on the basis that they are Christians.
Religious symbols and places of worship have been heavily targeted, the group said, pointing out that over 250 churches were burned down or damaged.
The U.N. criticized the slow and inadequate response by the Indian government, including law enforcement, to contain the situation.
Women and girls have fallen victim to horrific acts of violence. The filed complaint includes testimonies of several women who were brutally raped, assaulted, and even killed by mobs. Aid organizations and volunteers are primarily assisting the victims, as the government has offered limited compensation for those killed but none for those who have lost homes or businesses, ADF International said.
Religious freedom conditions in India have worsened in recent years.
Laws at various levels, including "anti-conversion" laws, are discriminatory toward religious minorities, the group added, explaining that these laws implicitly encourage violent campaigns, like those seen in Manipur and at the Broadwell Christian Hospital in Uttar Pradesh.
Laws like the Unlawful Activities Prevention Act also target religious freedom and expression, the group added. Many lawyers, journalists and religious minorities have been harassed, detained and prosecuted under these laws.
The government of India is expected to respond to the U.N.'s appeal within 60 days.
The violence erupted in Manipur following a controversial court order for the state to consider extending special economic benefits and quotas, previously reserved for the tribal Kuki-Zo people, to the Meitei population. It would also give the state government-backed Meiteis the right to buy land in the hills where the Kuki-Zo people live.
The government has deployed about 50,000 soldiers, armed police and other security personnel to enforce buffer zones between the two communities. Despite these measures, mobs have looted more than 4,000 weapons and half a million rounds of ammunition from police in Manipur, according to official estimates.
Lt. General P.C. Nair, director general of the federal paramilitary force Assam Rifles, recently described the situation as "unprecedented," highlighting the "large number of weapons" within both communities as a key concern, according to The Wire. "Mobs surrounding forces, women blocking roads are new hurdles for the force trained to fight armed insurgents," he said.
Nair added, "We are here only to curtail the levels of violence. … But more importantly, we are talking to multiple civil society organizations and various stakeholders to get them to hold talks."
In July, the European Parliament passed a resolution urging the Indian government to urgently restore peace in Manipur.
"There have been concerns about politically motivated, divisive policies promoting Hindu majoritarianism, and about an increase in activity by militant groups," the resolution stated. There are also "accounts of partisan involvement by security forces in the killings have increased distrust in the authorities."