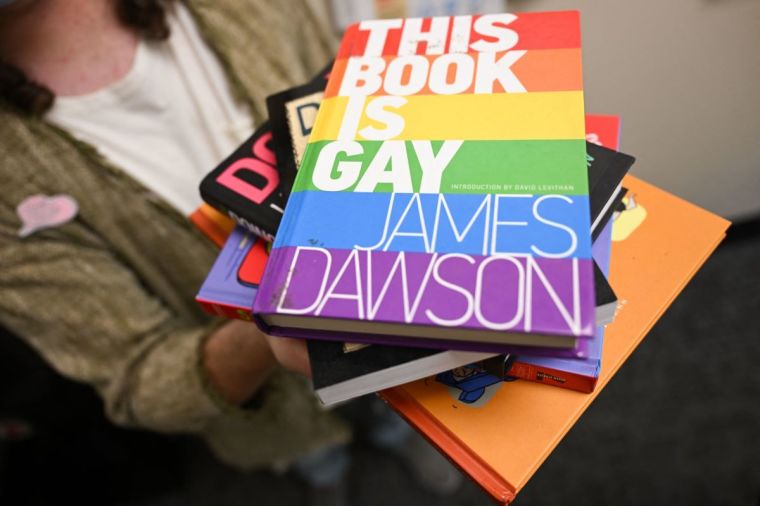 A Wisconsin school district library reportedly offers books that feature guides about how to view pornography online and engage in gay intercourse, according to a recent report from Libs of TikTok. 
Libs of TikTok, a conservative social media influencer named Chaya Raichik, highlighted the titles This Book Is Gay and Let's Talk About It offered to students by the Kenosha Unified School District in a Monday Substack report. 
This Book is Gay, authored by Juno Dawson, contains a chapter called "The Ins and Outs of Gay Sex," while Let's Talk About It by Erika Moen and Matthew Nolan features graphic depictions of genitalia and a guide for using porn to explore one's "fantasies." 
Libs of TikTok began searching through the district's library, uncovering several titles it considered "pornographic" after receiving an email from a concerned parent.
In an email to the district, Libs of TikTok raised concerns about the availability of five book titles — Flamer, Me and Early and the Dying Girl, Gender Queer, Let's Talk About It and This Book Is Gay — at various schools throughout the district. 
A spokesperson from the district stated that staff regularly uses "selection" and "deselection guidelines" to assess the collection of library books. 
"At any point, they can deem titles no longer meet the needs of their school community and process books accordingly," the spokesperson stated. "Parents/guardians who have concerns are encouraged to contact their child's school office for assistance and support." 
The Kenosha Unified School District did not immediately respond to The Christian Post's request for comment. 
Libs of TikTok questioned the response, wondering how some titles passed an evaluation process. The Substack post included screenshots of Let's Talk About It and This Book Is Gay to highlight some of the content of the books mentioned in the email. 
In addition to discussing gay sexual intercourse, This Book Is Gay depicts a diagram of a naked male, noting that if the reader is also a boy, then they have likely noticed "which parts FEEL NICE when you touch them." Another section of the book instructs students on how to take a photo of themselves and upload it to an application that will work out their location to tell them "who the nearest homosexuals are" so they can chat with them.  
Screenshots of another book, Let's Talk About It, show how it informs readers that when porn is "consumed right," it can help people learn about their sexuality and help explore "kinks and fantasies." 
Other photos of the book highlight text that assures readers that "there's nothing wrong with enjoying some porn," likening it to a "sugary treat." While one section of the book acknowledges that watching porn can be unethical or illegal depending on one's age, the text advises readers to do some research. 
"Look up interviews with your fave porn performers, go to sites they recommend, and pay for your porn," the book states. 
Controversy over the content students are exposed to in public schools and how much of a say parents should have over their child's education has arisen in multiple districts nationwide.
Last month, a federal judge rejected a request from parents for a preliminary injunction that would've allowed them to once again opt their kids out of lessons teaching LGBT ideology that conflicts with their religious values.
A group of interfaith parents had filed a lawsuit after the Montgomery County Public Schools in Maryland enacted a no-opt-out policy. 
While the parents are not trying to ban books, they seek the right to determine the religious upbringing of their children. Some of the books the parents objected to offered to pre-K through fifth grades as part of an LGBT curriculum include Pride Puppy and Uncle Bob's Wedding.
Some parents have appeared at school board meetings to share their concerns about the material presented to their children.
During a 2021 Fairfax County Public School Board meeting, one mother objected to the availability of sexually explicit books in the district's high school libraries, including Lawn Boy and Gender Queer. 
After reading aloud from both books, a school board member advised the mother to watch her mouth as children were present in the audience.
Last September, Libs of TikTok voiced concern about how This Book is Gay was made available to students at Newburyport Public School District in Newburyport, Massachusetts. A photograph posted with the tweet showed This Book is Gay on a bookshelf at an undisclosed location underneath a poster advertising "Banned Books Week."
Free

Religious Freedom Updates

Join thousands of others to get the FREEDOM POST newsletter for free, sent twice a week from The Christian Post.