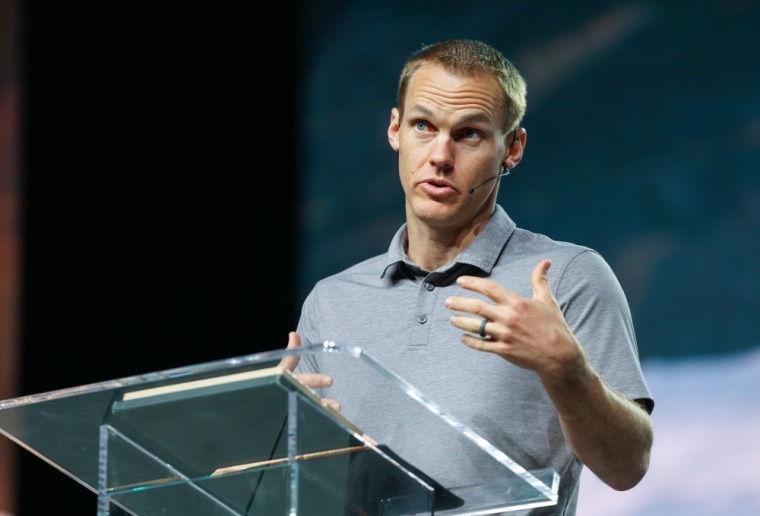 David Platt is rejoicing and giving all glory to God after his adopted son arrived home following a yearslong delay due to COVID-19-related travel restrictions. 
In a social media post Tuesday, Platt, pastor of McLean Bible Church in the Northern Virginia suburb of Washington, D.C., revealed that his son, Jeremiah Daniel (J.D.), finally arrived from China. 
"Three and a half years ago, we got a call saying that our international adoption would be postponed for a couple of weeks due to a strange virus that was spreading. By God's grace and through the work of so many people, including the many caregivers we honor who have provided for him in his home country, that adoption has finally come to completion, and Jeremiah Daniel Platt is home in our family!" Platt wrote.
"Thank you, thank you, thank you to so many of you who have heard about J.D. over these years and prayed for a precious little boy on the other side of the world that you have never met. He is a uniquely amazing kid. Please pray for him as he experiences the range of thoughts, emotions, joys, and challenges that adoption entails. And pray that ultimately he sees and knows God's love for him through his family and all who are around him."
"All glory be to the One is always working in our waiting and whose wisdom, power, and love are worthy of all our trust."
The Platts have six children, four of whom are adopted. 
In January 2020, Platt told The Christian Post, "My family and I are about to adopt our fifth child next week. Two of our kids are adopted, and this will be our third child that we have adopted."
In August 2020, he revealed that travel restrictions related to the COVID-19 pandemic delayed adoption.
"Today was my son's 4th birthday. But I haven't met him yet. We were 5 days away from going overseas to adopt him when travel to his country shut down in early February," Platt wrote at the time. "For the last 6 months, I've been pleading every single day for a way to go to him. As a dad, I would do anything possible to make that happen."
"I woke up this morning to new pictures of him in his orphanage, and then I read the first verse that just so happened to be in my Bible reading plan. 'Jesus told them a parable to the effect that they ought always to pray and not lose heart' — Luke 18:1," Platt added. "Could I ask you to pause for a moment, pray for J.D., and ask God to make a way for him to come into our family?"
According to a recent report from the National Council for Adoption, 115,353 children were adopted in the U.S. in 2019. This includes international adoptions, but those numbers have been far lower. The council estimates that overall adoptions "declined dramatically" in 2020 due to COVID-19.
Platt touched on the delays in bringing J.D. into his family in his 2023 book Don't Hold Back: Leaving Behind the American Gospel to Follow Jesus. 
Platt, who previously served as president of the Southern Baptist Convention's International Mission Board, told CP that participating in global missions is not reserved for a select few but is the calling of all Christians.
"Our purpose on the planet is not to promote the greatness of our nation, it's to spread the Gospel to all nations," he said. "We have more opportunities than ever before in history to spread the Gospel to the ends of the Earth today than any other people have ever had."
"How can we experience the multi-ethnic beauty of the Church? How can we make sure we're seeking God not as a means to an end but as the end?" he asked. "How can we be intentional about showing counter-cultural compassion in the world and doing justice in a world of injustice?"
Free

Religious Freedom Updates

Join thousands of others to get the FREEDOM POST newsletter for free, sent twice a week from The Christian Post.