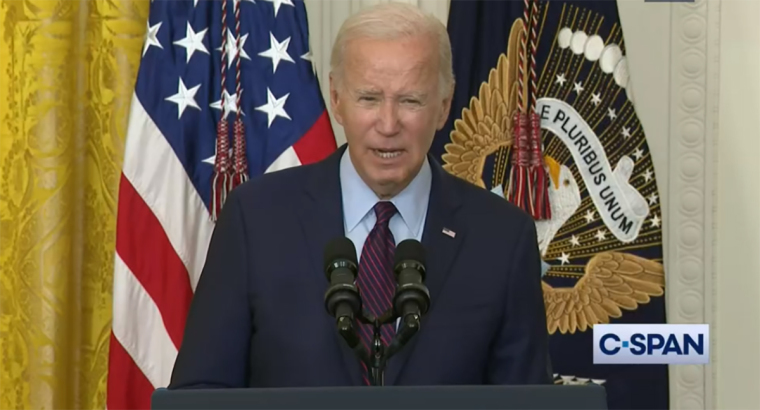 President Joe Biden mistakenly claimed that he convinced former U.S. Sen. Strom Thurmond to vote for the 1965 Civil Rights Act, even though Biden was in college at the time and hadn't yet met the senator. 
On Monday, Biden gave a speech in the East Room of the White House before the Lawyers' Committee for Civil Rights Under Law on the 60th anniversary of the legal group's creation.
During his remarks, Biden talked about the need to combat white supremacy and claimed at one point that he had helped to convince Thurmond, a former proponent of segregation, to vote for the Civil Rights Act. Thurmond served in the Senate for 48 years, first as a Democrat before switching to the Republican Party in 1964. 
"I was able — literally, not figuratively — talk Strom Thurmond into voting for the — the Civil Rights Act before he died. And I thought, 'Well, maybe there's real progress,'" said Biden.
"But hate never dies. It just hides. It hides under the rocks. And when someone breathes a little oxygen in it, it comes out — roaring out. And silence — silence is complicity. And we're not going to remain silent."
However, as Fox News Digital and other news outlets noted after the speech, Biden was only 21 when the Civil Rights Act passed the Senate in 1964, eight years before he was elected to the Senate in 1972.
An unnamed spokesperson for the White House told Fox News that Biden had meant to say he was integral to getting Thurmond to support the Voting Rights Act in 1980, having previously opposed the Act in 1965.
Biden has occasionally garnered controversy for his past associations with politicians who supported racial segregation, including Thurmond and former Democratic Sen. Robert Byrd of West Virginia, who had been a member of the Ku Klux Klan. 
During a debate in 2019, then-2020 Democrat presidential Kamala Harris accused Biden of working with segregationist members of the Senate to actively oppose busing policies.
"It was hurtful to hear you talk about the reputations of two United States senators who built their reputations and career on the segregation of race in this country. And it was not only that, but you also worked with them to oppose busing," she said at the time.
Biden responded to Harris' accusations, saying that her remarks were "a mischaracterization of my position across the board" and that "I did not praise racists" nor did he oppose busing when it was approved by local officials.
"I did not oppose busing in America. What I opposed is busing ordered by the Department of Education. That's what I opposed," Biden stated during the 2019 debate.
"Everything I have done in my career, I ran because of civil rights, I continue to think we have to make fundamental changes in civil rights, and those civil rights, by the way, include not just only African Americans, but the LGBT community."  
Two weeks after that debate, The New York Times published comments Biden made in a 1975 interview that were entered into the Congressional Record in 1975 in which he said: "I oppose busing. It's an asinine concept, the utility of which has never been proven to me."
During Judiciary Committee hearings on the bussing of school children in June and July of 1977, Biden said he wanted to "insure we do have orderly integration of society," adding that he was "not just talking about education but all of society."
Biden continued: "Unless we do something about this, my children are going to grow up in a jungle, the jungle being a racial jungle with tensions having built so high that it is going to explode at some point. We have got to make some move on this."
Free

Religious Freedom Updates

Join thousands of others to get the FREEDOM POST newsletter for free, sent twice a week from The Christian Post.