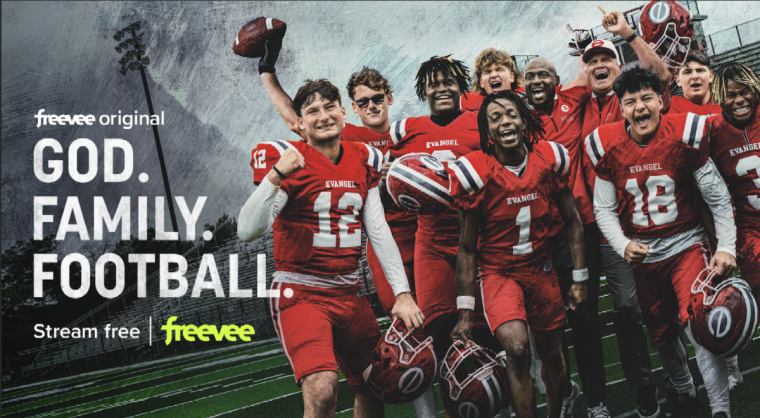 NFL star Russell Wilson has teamed up with legendary high school football coach and pastor Denny Duron, whose formula of "God, family and football" helped Evangel Christian Academy in Louisiana return to national prominence.
The new Amazon Freevee series, "God. Family. Football," follows Duron, assistant head coach Fibian Carter and the Evangel Eagles during the 2022 season on their road to redemption after coming off their worst season in school history.
Duron, 71, is a former player and coach who came out of a 30-year retirement from coaching to lead the football program he founded at Evangel Christian Academy in Shreveport. 
The six-episode docuseries premieres exclusively on Amazon Freevee on Sept. 1 and delves into the rich, diverse personal stories of faith and football set against the dramatic backdrop of the 2022 Louisiana high school football season. 
"God. Family. Football" is filled with the values many Americans hold dear, including Denver Broncos quarterback Wilson, who jumped on board to executive produce the series.  
"I can't even tell you what it means to have Russell Wilson involved," Duron shared with The Christian Post. "Russell really, really loves Jesus and is so open about his faith. My conversation with him just a couple of weeks ago was fire. I mean, he is so excited about this. I think he was more fired up than I was, honestly."
Wilson, an outspoken Christian, is co-signing coach Duron's "recipe for success: God, family and football."
"He said, 'I'm going to war with you guys," Duron continued. "'We're going to believe that God is going to use this to touch people's lives.' He was just really preaching." 
"I got off of that phone call like: 'Man, God has really put this vision of God, family, football in Russell Wilson's heart. He's proud of the series; that makes us proud. He is just committed with everything that's within him to seeing this thing succeed," the minister and coach maintained.
Duron was first called to ministry at the age of 17. At the time, he also had an opportunity to play football quarterback at Louisiana Tech University, where he led them to two NCAA Division II national championships. 
"I just assumed that because I had this call to ministry that I was not going to play more football. But when I was recruited by Louisiana Tech, the Lord really spoke to my heart and said, 'I've called you here to play football for My glory,'" Duron told CP.
"From that point to this, football has just been a platform for me to share my faith. God has always been first in it. In fact, if I wasn't allowed to share my faith in doing the football thing, then I wouldn't have done the football thing because it was just a means to an end."
In the series, the Evangel players are taught to put God first in their pursuit of success on a football field. The coaches see the players' desire to play on the football field as a great opportunity to draw them in and offer them the message of eternal life in Christ. 
"So we are using this as an opportunity to gather these kids. Most of them are leaders. It just kind of works out that way. When you play this game, you got to have something going on. And they are able to impact the entire rest of the student population. And hopefully, they'll touch people the rest of their lives," Duron shared.
As coaches, Duron and Carter are from different cultures, generations and backgrounds. But the pair lead with love and have significantly impacted their players.
"Everything is about everything, so I tackle the small things," Carter said about his disciplinary style of leading. "Thank you, Jesus, that we live in a school that we don't have to worry about some of the major things that's outside of us." 
Since its founding, the Evangel football program has won 14 state championships under six different coaches. Duron said the school has had five players make it to the NFL, a number that could increase to eight by next year. 
"What I tell coaches is what we have to do is remember the Lord and remember why we do this because those accolades and trophies and championships, they pass away," Duron said. "You can't even hold onto the glory of it five minutes after you receive it." 
In a statement with The Christian Post, Wilson said he was most impressed by Duron's leadership style. 
"What drew me to this project and inspired me to help tell [the film's] story of teamwork, hard work, and discipline was coach Duron's faith-first approach to the game," the 34-year-old Super Bowl champion said. "As the leader of Evangel Christian Academy, one of the top football programs in the country, coach Duron not only preaches but exemplifies what it means to be a winner on and off the field, and it is an honor to be able to share his lessons and legacy."
"God. Family. Football." will be available to stream starting Sept. 1.
View CP's exclusive clip of the series below:
Free

Religious Freedom Updates

Join thousands of others to get the FREEDOM POST newsletter for free, sent twice a week from The Christian Post.