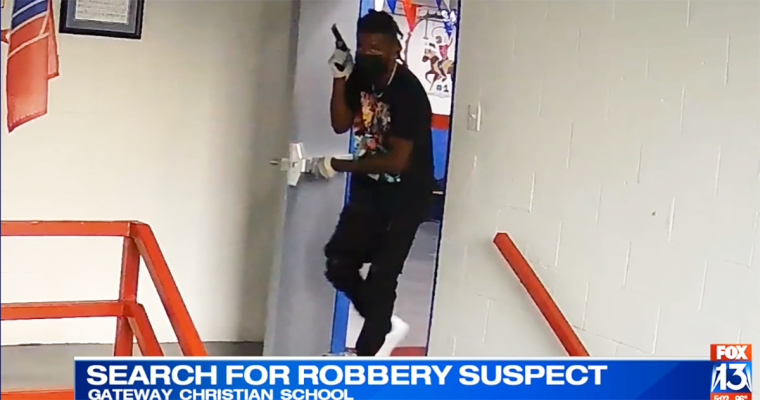 Police are searching for a suspect who robbed a 71-year-old woman at gunpoint outside a Christian school before breaking into the building and brandishing his gun in search of the employee he robbed, warning her not to call the police. 
The employee was parked outside Gateway Christian School in Memphis, Tennessee, when the driver of a silver sedan with Mississippi tags drove in front of her minivan at 6:30 a.m. on Aug. 22 and robbed her, Fox 13 reported. She subsequently ran into the school and called police, according to multiple reports. No students were at the school at the time. 
Minutes later, the suspect, who is described as a black male, 6-feet tall with a thin build and short dreadlocks, returned to the scene of the crime and broke a glass door to enter the building in search of the employee he robbed. Surveillance video released to the public shows the suspect wielding a handgun as he runs up and down stairs. 
According to local police, the suspect was yelling, warning the employee he robbed not to call the police as he searched for her. The woman had managed to secure herself in a locked office within the building and the suspect eventually exited the building and drove away from the scene. 
In a statement released to local media outlets, officials at Gateway Christian Schools said they believe the robbery was a "crime of opportunity" because the suspect had been seen "circling the parking lot" prior to the crime, according to ABC24.
An administrator told the news station that the school plans to purchase a Sky Cop camera and might also hire a security guard on campus. 
Action News 5 reported that the suspect was seen wearing a black T-shirt with Optimus Prime on the front, black pants, white shoes and a black mask covering part of his face. 
State Rep. G.A. Hardaway, D-Memphis, told Fox 13 that he was surprised a robbery happened on the school grounds. He said city leaders should "engage in more proactive security measures to protect the safety of students and staff." 
"We're working on sending money now for school safety programs for fortifying schools for hardening the exterior of schools. We are doing that so they can put security systems in," he added.
The employee who was robbed returned to work on Aug. 23.  
Individuals with information about the suspect have been asked to call Crime Stoppers at 901-528-CASH. 
Nicole Alcindor is a reporter for The Christian Post. 
Free

Religious Freedom Updates

Join thousands of others to get the FREEDOM POST newsletter for free, sent twice a week from The Christian Post.