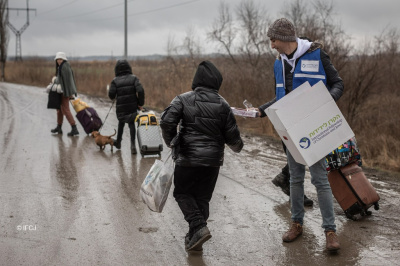 As we prepare to observe World Humanitarian Day on August 19, I've been reflecting on the work of my organization, the International Fellowship of Christians and Jews (The Fellowship), and the aid we provide for millions of people in need worldwide each year.
This day was set aside by the United Nations to honor all those who so willingly brave dangerous situations caused by disaster or war day in and day out in order to bring care, basic needs, protection, and hope to those living through crisis.
I started thinking about what motivates all our dedicated Fellowship staff in the field every day. What gives them the strength to do this job that sometimes requires them to leave their families and friends to travel to places that can be dangerous and chaotic, like Ukraine, Ethiopia, or areas of Israel frequently targeted by rocket fire and terrorist attacks?
I recently talked about this to some of our staff members and realized there's something powerful about helping others in crisis — so powerful, in fact, that it actually gives you strength in return.
One of those staff members, Moran Ben-David, lives in Netivot, a community in southern Israel that sometimes faces nonstop code red sirens warning of incoming terrorist rockets. When this happens, Moran first makes sure her children are cared for and safe in bomb shelters, then rushes off to deliver food to the elderly on behalf of The Fellowship.
Her motivation and strength come from knowing that the elderly who she visits would otherwise have no food and no caregiver during these crises. Moran is the messenger of The Fellowship's good work. With so much out of her control, she knows she's doing what she can to help, and shining light in a dark situation.
Similarly, another Fellowship staff member, Gadi Teichman Dan, didn't think twice before rushing to the Moldova-Ukraine border to help refugees fleeing the country after the Russian invasion plunged Ukraine into chaos and fear. He was driving closer to the war zone as so many were fleeing in the opposite direction.
When he arrived, he found refugees filled both with relief to be out of danger, and fear at their shocking change in reality. They had nowhere to go and didn't know what to do next, but Gadi was there to greet them with food and shelter, and to be a sympathetic ear to their powerful stories.
For Gadi, it's personal. Born in Ukraine, his family made aliyah (immigrated to Israel) 33 years ago. Simply knowing he could have been one of these refugees fleeing with his 7 and 8-year-old children put it all into perspective. His ability to imagine himself in this very same crisis only fuels him to work harder to help these people in need. Since that initial trip, he's made many more humanitarian visits to Ukraine on behalf of The Fellowship.
As for me, this is so much more than just a job — it's truly my calling. Like Moran and Gadi, the people we serve touch my heart every day, and this empowers me to find strength within.
I think of elderly Ludmila. One of the great tragedies of the war in Ukraine is that there are elderly people like her, including many Holocaust survivors, who want to escape but are simply too weak and frail to do so. But with the help of our partners, we were able to rescue some of these precious elderly at the onset of the war, including Ludmila, and have doctors accompany them on an emergency medical rescue flight from Ukraine to Israel. Months later in Israel, I was able to follow up with Ludmila, who shared with me, "I would not be alive if it was not for The Fellowship."
To be involved in humanitarian work like this is to be involved in something bigger than ourselves. And it is truly a team effort. So, on this World Humanitarian Day, my heartfelt prayers are with all of those — whether they are with The Fellowship or any of the other humanitarian organizations doing such amazing work around the world — who bravely step into difficult and dangerous situations every day to serve others. Whatever their faith, they are truly doing God's work. May they be protected and feel God's blessing every time they see the fruits of their labor in the lives of people in need.
As President and CEO of The Fellowship, Yael Eckstein oversees all programs and serves as the international spokesperson for the organization. With over a decade of non-profit experience in multiple roles, Yael has the rare distinction of being a woman leading one of the world's largest religious charitable organizations. In addition to her podcast exploring the Jewish roots of the Christian faith, Nourish Your Biblical Roots. Yael also invites thought-leaders, pastors, authors, and other influencers to discuss Israel and Jewish-Christian relations on Conversations with Yael. She is the 2023 recipient of the Jerusalem Post's Humanitarian Award, and in 2020 and 2021, was named to the publication's list of 50 Most Influential Jews. Born outside of Chicago, Yael is based in Israel with her husband and their four children.
Free

Religious Freedom Updates

Join thousands of others to get the FREEDOM POST newsletter for free, sent twice a week from The Christian Post.