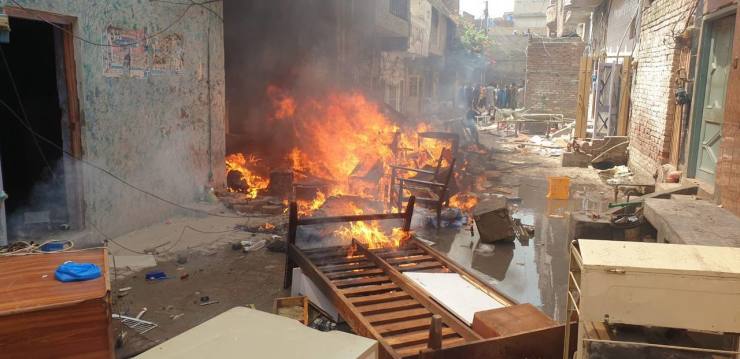 Two days after Pakistan celebrated its 77th Independence Day, twenty-four churches are reported to have been burnt down in Jaranwala in the industrial district of Faisalabad, in the Punjab province of the country on August 16, said a source to Christian Today.
Tensions flared up when two Christian brothers – Raja Amir and Rocky Masih were accused of tearing pages from the Quran and scribbling on the Quran pages.
A separate note is found with their photograph attached to it in Urdu that reads demeaning words to the Prophet and blames the Muslim community for attacking Churches and troubling the Christian community.
The locals were furious and angry after the announcements were made from multiple mosques in Jaranwala inciting them to attack the Christians, said a local source who does not want to be named because of security reasons.
"Angry mob led by clerics from the Tehreek-e-Labbaik Pakistan (TLP), an Islamist political party, attacked several churches burning them down and homes were ransacked, looted and burnt," said the source to Christian Today.
The TLP has denied any involvement in the violence said media reports.
"The churches were attacked in several parts of Jaranwala," Saleem Iqbal, a human rights activist told Christian Today. "Though the exact numbers are yet to be confirmed, I have a confirmed list of 24 churches which have been burned," he added.
Police have been deployed to safeguard the churches at the writing of this, but tensions continue to persist.
Shocked at the note written in red and its picture circulated in social media, Iqbal said, "The Christian men have been framed. How can someone write such a thing and then attach their own picture to it, inviting attack."
The accused Christian men and their family are said to have gone into hiding to save their lives.
Many Christian families have evacuated their homes and have taken refuge with family, friends outside the city and many of them are homeless hiding in farm lands – sheltering under the open sky.
The British Asian Christian Association in an email claimed that several Christians were assaulted.
"Numerous brutal assaults have left thousands of individuals injured, and the aftermath has left tens of thousands without shelter," said the email.
The BACA has provided housing for 15 families and are committed to aiding more in need, reads the email.
In a tweet Shehbaz Sharif, the former Prime Minister of Islamic Republic of Pakistan condemned the attacks on Christian minority and said, "What is happening in Jaranwala is sad and disturbing. There is no place for violence in any religion. All religious places, Holy Books and personages are sacred and deserve our highest level of respect. I urge the government to take action against the culprits. I also appeal to Ulema, Mashaykh and religious scholars from all schools of thought to come forward and condemn the reprehensible actions. Such madness can't be allowed. Pakistan belongs to all religious minorities."
The Moderator and President of Bishop Church of Pakistan Azad Marshall in his tweet expressed his pain at the arson and demanded for immediate arrests and justice for the Christian community. The tweet read, "Words fail me as I write this. We, Bishops, Priests and lay people are deeply pained and distressed at the Jaranwala incident in the Faisalabad District in Pakistan. A church building is being burnt as I type this message. Bibles have been desecrated and Christians have been tortured and harassed having been falsely accused of violating the Holy Quran. We cry out for justice and action from law enforcement and those who dispense justice and the safety of all citizens to intervene immediately and assure us that our lives are valuable in our own homeland that has just celebrated independence and freedom."
The Centre for Social Justice (CSJ) said that 198 persons have been accused of blasphemy till August 16, 2023 out of which 4.4 percent are Christians.
Though punishable by death, no one has yet been executed for blasphemy.
"The blasphemy law has time and again been used to settle scores and used as a tool to harass and arrest innocent Christians," Iqbal told Christian Today.