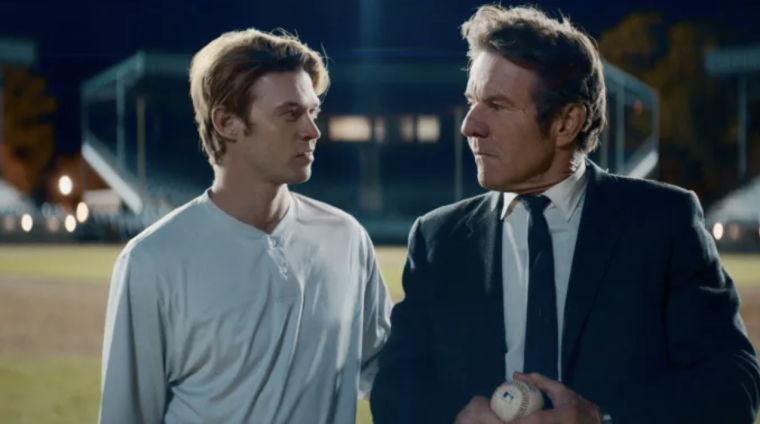 For as far as back as he can remember, Rickey Hill knew God was calling him to play professional baseball. The only problem? He was born with a defect that required him to wear braces on his legs — and his father, a stern Baptist preacher, wanted him to enter the ministry, not professional sports. 
But his faith, combined with a fierce belief that miracles are possible, compelled Hill to persevere and realize his dream. 
"I always believed that I should be a professional ballplayer," Hill told The Christian Post. "I've never, ever wavered from my faith, period. Never did, which would be easy to do when your father's kind of against what you're doing. I still never wavered from my faith at all. It's the same still today."
Hill's remarkable story is the subject of a new film titled "The Hill," starring Dennis Quaid, Scott Glenn, Colin Ford, Randy Houser and Joelle Carter. It showcases how Hill, who possessed a natural ability to hit a baseball despite his disability, overcame multiple obstacles to make it to the minor leagues, eventually leading the 1978 Grays Harbor Loggers to a Northwest League championship. He was the team's top home run hitter. 
"God gives you the talent; either have it or you don't," Hill said. "It's just a matter of what you do with it. You can take that talent, and you can work. Scripture says that faith without works is dead. You can have all the faith in the world, but if you don't have that work that goes along beside that faith, it's dead. So I always looked at that Scripture my whole life, knowing that I had to work to make it happen. And I did, every day."
The narrative of "The Hill" revolves heavily around Hill's relationship with his father, a well-meaning yet stern pastor (Quaid). Both roles pulled at Hill — the passionate preacher's son who once mimicked his father's sermons and the dedicated athlete who knew he had a higher calling on the baseball field. 
The film captures how Hill managed to bridge these worlds, eventually realizing, "You can serve in ministry anywhere." Throughout his life, he's been guided by Philippians 4:13: "I can do all this through Him who gives me strength."
"I wanted to be in the ministry, but I also wanted to play baseball at the same time, so [my father and I] kind of battled it out there a little bit and came to the conclusion that I can serve in the ministry while I'm playing ball," he said. 
"My father let me decide on my own, and when I told him that I would do both, he understood it," he continued. "In the end, he loved every bit of it. God kept the spirit going in me, and I never stepped away from it."
"The Hill" isn't just a sports film, though written by "Hoosiers" and "Rudy" screenwriter Angelo Pizzo. Director Jeff Celentano, the director behind the crime drama "Breaking Point," said he set out to make a "family film," one that centers on the importance of family and faith.
"The film was listed as a sports drama, and I said, 'No, it doesn't have anything to do with sports. It's to do with a family trying to come together, a little boy trying to find the love of his father, but it has sports in it.' This is a movie for everybody. If you love sports, you'll love the movie. If you hate sports, you'll love the movie. If you have a family, you'll love it. If you have no family, you'll love it. If you're a person of faith, you'll love it. And if not, you'll still love it as well."
Celentano first set out to make the film 17 years ago but faced numerous challenges along the way. The world of movie financing is notoriously unpredictable, he said, and more than once, just as it seemed "The Hill" would finally be made, funding fell through. 
"God was watching out and saying, 'I'm not going to let you do the movie with these people. Sorry,'" he recalled. 
In an extraordinary twist of fate, an investor, moved by the film's themes of faith and perseverance, committed not just to invest but to fund the entirety of the movie.
Celentano believes that the entire journey was divine orchestration. "God was watching out and saying — not with these people. I'm going to wait for the right group of people," he said. "I have no question about what this movie is going to do."
The director revealed he recently screened the film for an audience at Joel Osteen's Lakewood Church in Houston, and the response was "otherworldly."
"People were crying, laughing, screaming, cheering," he said. "People were hugging Rickey at the end saying, 'You changed my life. My son wants to go play baseball. He's autistic. He saw this movie. He feels like he can do anything.' I'm not making this stuff up. Rickey and I couldn't even talk after the movie was over; we were so emotional because of the reaction."
Now 64, Hill still faces physical challenges. "I've broken nearly every bone I've got," he said.
Yet, he views his story as one that serves to glorify God and inspire others.
"He's given me all the answers to a lot of questions that have happened throughout my lifetime of why did God choose me as a vessel," he said. "It gave me the answers for … why I was paralyzed on the baseball field. It didn't make sense. And then, later on, I got the answer. It's because of this film."
When people see his story, Hill hopes they ask themselves, "What is God calling me to do?" and then answer that calling to the best of their ability.
"Don't ever think that you have met your level because there's always a level above it," he said. "There's always … a better ball player over there, but you always tell yourself that you're better than them. I hope that people … aren't dreaming; they're doing. Dreams are just dreams; I like action and happening. I hope that's what people take away. They have their calling of what to do, and whatever they're doing, they take it to the top of the level."
"The Hill" releases in theaters on Aug. 25.
Free

Religious Freedom Updates

Join thousands of others to get the FREEDOM POST newsletter for free, sent twice a week from The Christian Post.