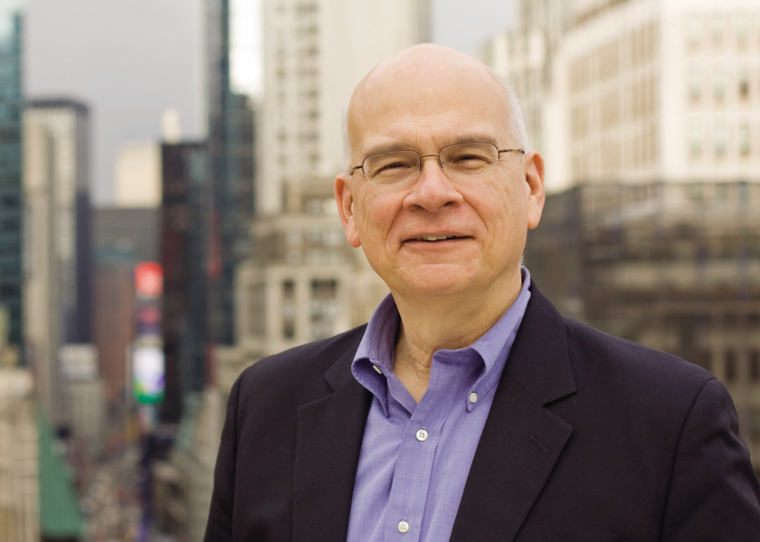 Pastor and author Tim Keller was remembered for his deep wisdom, passion for encouraging others to grow in their faith, and for living the life of an "extraordinary servant" whose greatest love was sharing the Gospel at his memorial service on Tuesday. 
Thousands from around the world gathered at St. Patrick's Cathedral in New York City to honor Keller, who passed away at 72 on May 19 after a lengthy battle with cancer. Keller served in pastoral ministry for four decades, including founding and pastoring Redeemer Presbyterian Church in Manhattan. He also co-founded the church-planting network Redeemer City to City. 
"You may have noticed this isn't the usual sort of memorial service," Kathy Keller, the late pastor's wife, told the 2,000 people gathered at the cathedral. 
"That's because Tim wrote it himself, just the way he liked to do funerals for other people," she said. "You mention the dead person, certainly, but then you talk about the God that person is now facing. So, blame Tim if there aren't videos and choirs and lengthy testimonials."
"Tim is buried in St. Michael's Cemetery … but that place is huge and you couldn't find the grave even if you tried," she said. "But please don't try, and here's why I don't want you to: you know those scenes in movies, like at the end of 'Saving Private Ryan' where someone has a heart-to-heart talk standing at the headstone of the deceased person? Tim and I were always uncomfortable with those because the person isn't actually there."
"Tim is with Jesus — healed, loved, more alive, and happier than he has ever been," she said, keeping her tone conversational. "Having mentioned the headstone, I will tell you I've been considering various Bible verses for it. … Let me tell you my favorite right now."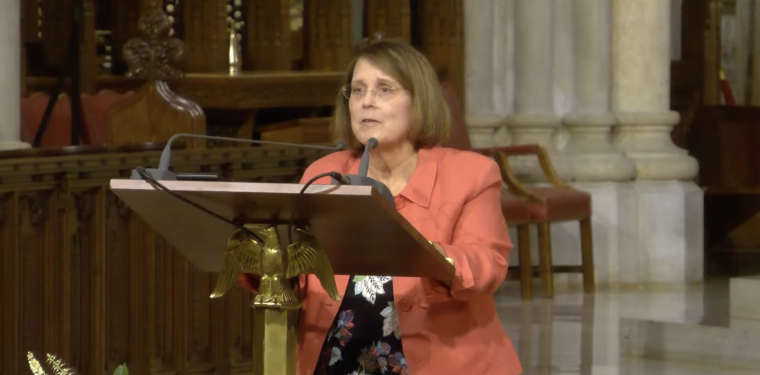 She read Isaiah 25:6–9 for "context," before revealing Keller's headstone will feature Isaiah 26:1, 12 and 19, "In that day this song will be sung. … All that we have accomplished you have done for us. … Your dead will live, LORD, their bodies will rise. Let those who dwell in the dust wake up and shout for joy."
"Isaiah was speaking of a future reality, with no more death or tears," she said. "Tim is living in that reality now," she said. "How I yearn for all of us to trust the God he now worships face to face so that one day we may all sit down to that feast together."
Jonathan Keller remembered his father as an exceptional encourager, urging everyone to find encouragement from Keller's life legacy. 
Keller was a "fundamentally a gifted encourager," he said, adding: "Let's be encouraged, friends and family, even in our sadness, from the memory of his life, which is a testament to something greater and longer-lasting than we have here on Earth."
David Keller emotionally prayed, "Heavenly Father, we are sad at the loss, but we take comfort in knowing dad is filled with joy. We ask you to meet us in our grief and remind us that your loving sacrifice on the cross and resurrection has conquered death, so that when you call us home we can joyfully say what he did, 'I'm ready to see Jesus. Send me home.'"
The service also featured readings from the Bible and excerpts from C. S. Lewis' work, read by actor Max Mclean, hymns chosen by Keller, including "There is a Redeemer," "Immortal, Invisible God Only Wise" and a homily from Sam Allberry.
Alberry, a family friend of the Kellers, reminded attendees that the "very qualities we have loved in Tim are all reflections of what can be found so clearly in Christ." Using one of Tim's phrases, he said, "Jesus is the true and better Tim Keller." 
"The best way to appreciate and understand Tim is to think about Christ," he said. 
"Tim was an extraordinary servant because he had let Jesus serve him," he said. "It was being served by Christ that enabled him to serve so many of the rest of us so beautifully. So will you let Jesus serve you? If you've never done so, would you let Jesus serve you today, this afternoon, this very moment?"
Scriptures were woven throughout the service, read by the pastors of the four Redeemer campuses. Each verse emphasized the promise of resurrection, including John 14, 1 Corinthians 15, 2 Corinthians 4, Romans 8 and Mark 10.
Michael Keller, Tim's middle son, concluded the service by encouraging everyone to find solace in the fact that through Christ, they are able to "grieve with hope."
He quoted D. L. Moody: "Some day you will read in the papers that D. L. Moody of East Northfield, is dead. Don't you believe a word of it! At that moment I shall be more alive than I am now; I shall have gone up higher."
"The world to come is brighter and better and more real," Michael Keller said. "We are going to see him again in the new world, so there is joy and grace and love and light forever more. Let that comfort you, let that sustain you in all things now and always."
In addition to the thousands gathered at St. Patrick's Cathedral, nearly 10,000 people from around the world watched the funeral livestream broadcast by Redeemer City to City.
According to The Gospel Coalition, which Keller co-founded, attendees included actress Patricia Heaton, New York Times columnist David Brooks, historian Molly Worthen, rapper Lecrae and others. 
On Twitter, Lecrae revealed that a line of people was "wrapped around 50th and 5th Ave" to attend Keller's funeral.
"I met a man who flew from Ethiopia just to be there. What a testament to Keller's faithfulness," he wrote. 
In a recent interview with The Christian Post, Lecrae shared how Keller's 2018 bookProdigal Prophetsaved his life during an internal struggle with deconstruction and doubt. 
"One of the things I admire about Tim Keller is that he was not there to teach Christians how to become pastors, but he was there to use his biblical insight and wisdom to unpack the scriptures for Christians so that they can be effective believers in society, whatever field of endeavor they functioned in," Lecrae said. 
"He was very kind and generous and caring and nurturing toward those outside of the faith while still holding on to his views and his biblical beliefs," he added. "There's a way to do it where you're not obnoxious and you're not condescending, but you're, in many ways, saying, 'Listen, I'm a broken human being like the rest of you all. It's just this grace that is transformed me … and allows me to have the confidence in who God is and who I am in Christ."
Free

Religious Freedom Updates

Join thousands of others to get the FREEDOM POST newsletter for free, sent twice a week from The Christian Post.