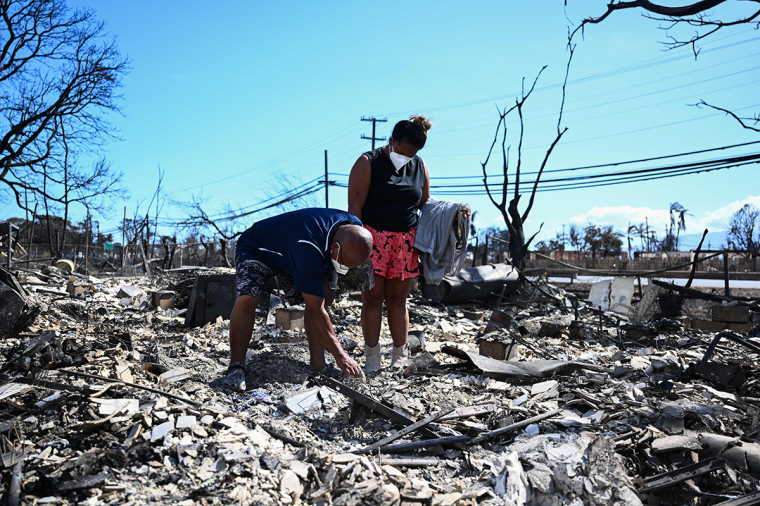 As the deadliest U.S. wildfire in over a century has claimed 93 lives in Maui, Hawaii, with the death toll expected to rise as search efforts continue, local churches are providing help despite having suffered significant losses themselves.
The fast-moving blaze has destroyed the historic resort town of Lahaina, causing an estimated $5.5 billion in damages, and burning over 2,100 acres, according to Reuters, which said the death toll had reached 93 on Saturday, according to the Maui County website, surpassing the previous record of 85 deaths in a 2018 fire in Paradise, California.
Hawaii Gov. Josh Green has warned that the death toll could increase as more victims are discovered. Maui County Police Chief John Pelletier stated that dogs trained to detect bodies had covered only 3% of the search area.
The Federal Emergency Management Agency reported that more than 2,200 structures were damaged or destroyed in Lahaina.
Residents questioned the state's emergency notification systems, as sirens intended to warn of natural disasters never sounded, and power and cellular outages hampered other alerts, according to the newswire. Officials said a terrifying mix of elements, such as failures in the communication network and wind gusts reaching 80 miles per hour, made coordination almost impossible.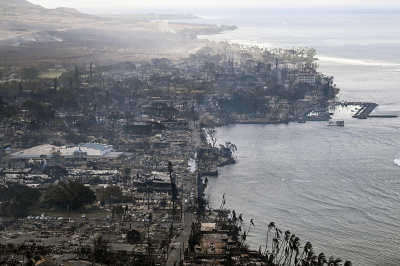 The disaster began just after midnight on Tuesday in Kula, 35 miles from Lahaina. Power was knocked out in Lahaina, and a brush fire was reported but contained by 10 a.m. However, the Lahaina fire flared up around 3:30 p.m., leading to frantic evacuations. Some residents described having little warning as the fire destroyed the town.
In a stunning contrast, the historic Maria Lanakila Catholic Church in Lahaina remained untouched, with viewers hailing the phenomenon as an act of God. Msgr. Terrence Watanabe expressed shock at the apparent divine intervention, and members of the church community expressed gratitude, according to New York Post.
"Basically, what we know is the fact that all of Lahaina Town has been consumed by fire. It's all gone. The church, Maria Lanakila [Our Lady of Victory], is still standing, as is the rectory," he told The Pillar.
Pastor Kawi Keahi and his wife, Shalia, who lost their home and the King's Chapel in Lahaina, spoke of escaping the blaze and helping others.
Shalia told ABC News that their neighbor informed them that the fire was right above them, leading them to evacuate with their children and dog in their car.
"The traffic was congested. Everyone was trying to leave," recalled Pastor Keahi. While they were still on their way, the fire had crossed over past their home. The sky behind them was "dark black … Like everything was just going up in flame," he said.
"While the people should have evacuated, they were walking around," he added.
"It kind of felt like people were kind of giving up," Shalia said.
Pastor Keahi said that many families were not as fortunate as they were, unable to leave the area with their loved ones. "They died with their families. My heart just breaks for them."
Shalia added: "We are thankful to be part of a big church. We have many locations. And so our church in Kahului is helping in the efforts to get supplies together. And as soon as we get the green light to go in and get supplies to the homes in Kahana and Napoli, … we are going to do that. We are providing a place to stay for the people that are coming out."
It's the communities' faith that will bring comfort and prayer, the pastor said.
Pastor James Morocco of King Cathedral in Maui told Fox News that his church has set up a relief fund for displaced people. "A lot of people" are helping, he said, expressing gratitude.
California Pastor Greg Laurie of Harvest Christian Fellowship has also set up a relief fund to help the Maui-based congregation and others in the community. 
The effort will not only help Harvest members "rebuild their lives" but also benefit "other people in the community who've been devastated by this," and provide "hope and comfort in the Name of Jesus," Laurie said in a video message.
The Christian humanitarian group World Help is working with local partners in Lahaina to assess the areas of greatest need and will provide assistance through those partners in the region.
The group's president, Noel Brewer Yeatts, described the devastation as looking like a "war zone," with many losing everything. Acknowledging that the healing and rebuilding process will take years, World Help has created a donation page specifically to benefit the victims of the Maui wildfires.
FEMA Director Deanne Criswell said the agency had 150 people on the ground, with additional search teams arriving soon. Officials have secured 1,000 hotel rooms for those who lost their homes, and more than 1,400 people have been taken in at emergency shelters.
Free

Religious Freedom Updates

Join thousands of others to get the FREEDOM POST newsletter for free, sent twice a week from The Christian Post.