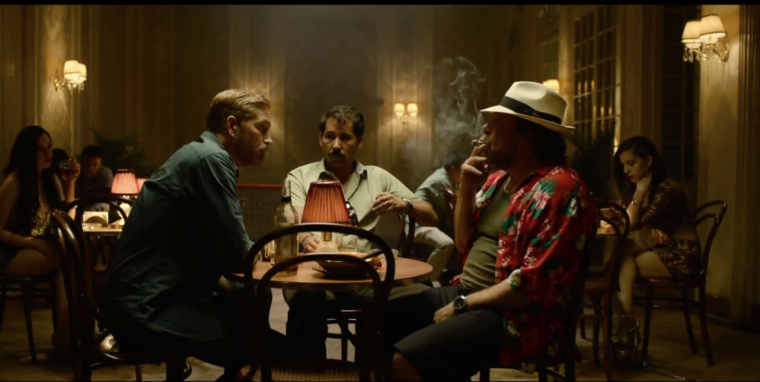 What happens when another overtly Christian movie starring Jim Caviezel dominates the box office?
After the thriller "Sound of Freedom" beat out Disney's "Indiana Jones and the Dial of Destiny" for the top spot over the Fourth of July holiday weekend, the mainstream media didn't waste much time piling on the hate.
Shown in only 2,600 theaters, the Angel Studios film is based on the life of Tim Ballard, a former U.S. Department of Homeland Security agent who left his job because he wanted to do more to rescue children from modern-day slavery. With a bold message calling for the freedom of millions of children enslaved in human trafficking, the film's signature line declares, "God's children are not for sale."
While some industry outlets like Variety hailed the true-life tale about child sex trafficking as an "unlikely box office savior," after the film took in $40 million less than a week after its debut, some fans noticed a marked contrast in the way in which other media covered the film's success.
Calling the movie a "QAnon-adjacent thriller" — whatever that means — The Guardian "fact-checked" the box office tally, pointing out that "Indiana Jones" had already been in theaters for five days before "Sound of Freedom" came out.
From there, reviewer Charles Bramesco tosses out what can only be described as a list of what must be the mainstream media's holy trinity of "alt-right" buzzwords: Clinton Crime Family, adrenochrome, Pizzagate.
Bramesco even takes a swipe at Christian "archetypes" when he writes the film's "religious dimension seldom extends beyond a God-fearing undertone, most perceptible in archetypes like the reformed sinner on the righteous path." The writer seems to mock the pro-life movement when he suggests the film "pretends to be a real movie, like a 'pregnancy crisis center' masquerading as a bona fide health clinic."
Perhaps most ironically, though, is right after The Guardian reviewer takes Caviezel to task for daring to help raise additional funds to fight child trafficking, calling it the "the lone honest beat in a purported exposé of scandalizing facts," a footer at the bottom of the review reads: "I hope you appreciated this article. Before you move on, I was hoping you would consider taking the step of supporting the Guardian's journalism."
Lone honest beat, indeed.
The review stands in stark contrast, however, to The Guardian's news coverage of Colombian child sex trafficking in 2018, when the outlet warned the practice is "rife" in Cartegna, one of the country's biggest tourist destinations.
The Washington Post and Rolling Stone were also taken to task by conservatives on social media who pointed out their respective glowing coverage of the 2020 film "Cuties," which tells the tale of an 11-year-old girl rebelling against her conservative family to join a dance crew that engages in sexually-suggestive dance routines. 
The film's writer and director, Maïmouna Doucouré, told Medium that they "auditioned 700 girls" for the film. Questions have been raised about the audition tapes and what the filmmakers asked each girl to do during the audition. 
After thousands signed a petition calling on Netflix to remove "Cuties" from its platform over what critics described as the sexualization of young children, Netflix was later indicted in Texas in connection with the film for promoting "lewd" depictions of children.
That movie was hailed by The Washington Post and Rolling Stone, both of which also mocked "Sound of Freedom." The Post also linked the movie to "QAnon conspiracy theorists," in stark contrast to its own review of "Cuties" as an "unflinching look at what it means to be a preteen girl."
Rolling Stone went a slightly less objective route, opting to call "Sound of Freedom" a "superhero movie for dads with brainworms" and even describing Cavaziel as the actor "best known for being tortured to death in Mel Gibson's The Passion of the Christ."
Ridiculing what it described as a "white savior narrative" — an apparent anti-Christian slur — Rolling Stone's review from writer Miles Klee also features a long line of more buzzwords and even mocked the idea of a "sinister legion of evildoers who are harvesting the blood of children" in a review of a biopic that centers on that very topic.
But when it comes to "Cuties" — a film that spurred some Republican lawmakers to ask the Department of Justice to investigate whether its production "violated any federal laws against the production and distribution of child pornography" — Rolling Stone, it seems, didn't quite see it that way.
Describing the film as a "coming-of-age movie caught in the culture warns," reviewer David Fear wrote: "It's a portrait of girls that decries how sexuality is force-fed to them and/or viewed as the only way to foster self-esteem at far too young an age. 
"It is the polar opposite of what it's accused of being."
Conceding that the film's dance routines mirrored "age-inappropriate" ones in real life, the review asserts that "innocence, in the movie's eyes, is what needs to be protected at all costs."
In March, Rolling Stone was at the center of controversy over an NPR report alleging editor-in-chief Noah Shachtman "omitted a key fact" in a write-up of an FBI raid targeting James Gordon Meek, a national security reporter with ABC News.
According to the report, Rolling Stone's initially published article "lionized Meek's record and swashbuckling style." In February, Meek was charged with transportation of child pornography and faces up to 20 years in prison.
Notably, neither report offered any context for the "Sound of Freedom," namely that the U.S. was identified as the "number one consumer of sex worldwide" in a 2019 report or that another report released in January ranked Mexico "first in child sexual abuse; first in exploitation, homicides, and trafficking of minors; and first in creation and distribution of child pornography."
Nor did they mention that "Sound of Freedom" received an A+ CinemaScore, an 85% critics score and a 99% audience score on Rotten Tomatoes.
But hey, who needs facts and figures when you can simply work "QAnon" into a headline?
Free

Religious Freedom Updates

Join thousands of others to get the FREEDOM POST newsletter for free, sent twice a week from The Christian Post.