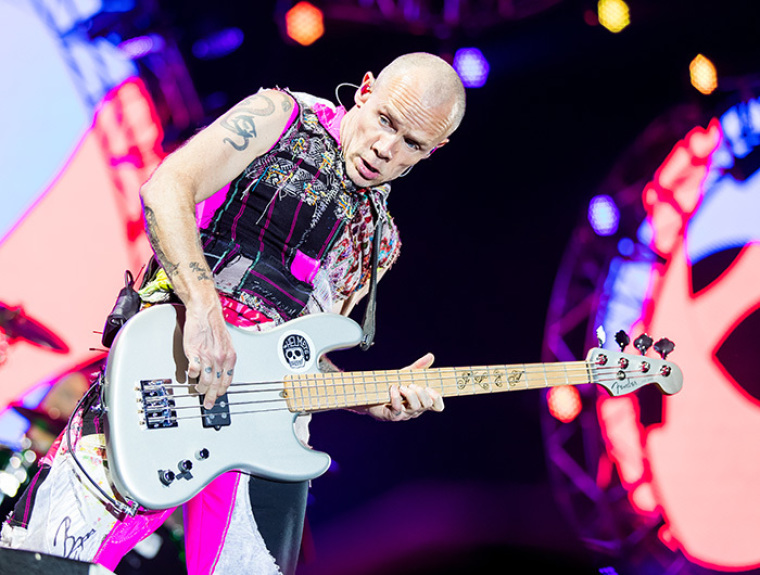 Red Hot Chili Peppers bassist Flea recently recalled a pivotal moment when he felt the divine presence of God, saying that he prays multiple times per day despite considering himself nonreligious. 
In an interview with The Los Angeles Times, the 60-year-old California-based musician detailed his spiritual journey, reflecting on his life, the significance of music, and the sense of community that he sought.
Born Michael Balzary, Flea shared how he was once an atheist but has connected with the concept of God, which he perceives as a "divine energy." 
"I'm a praying guy," he was quoted as saying. "I pray in the morning when I get up, when I go to bed, when I eat. And when I do an interview, I'll just stop for a second — like, let me get out of the way and let go of everything."
He described a phase in the early 1990s, during the height of the band's popularity, when he was experiencing chronic fatigue and feeling disconnected from his friends due to his decision to stop partying.
"For me, music is the voice of God," he was quoted as saying. "I grew up virulently anti-religious, and there came a time in the early '90s, right around when I turned 30, I got really sick with chronic fatigue. I'd been a drug-taking madman — party all night, play basketball all day. … I just thought I was Superman. And all of a sudden, it was like all the energy got sucked out of my body."
Flea said he found solace in a self-help book by Jon Kabat-Zinn, which prompted him to look inward to contemplate his existence and his "emptiness," leading him to a breakthrough where "God just made perfect sense."
Flea also shared his experiences visiting churches in South Los Angeles in the 1980s as an atheist, hoping to find a sense of community. While he doesn't attend a specific church, he expressed admiration for the intense energy in some religious gatherings.
"I thought punk rock was intense. Punk rockers are a bunch of p— compared to a church where people are speaking in tongues and throwing themselves on the ground," he told The LA Times.
Flea continues to create music with Red Hot Chili Peppers.
The band released two new studio albums last year, "Unlimited Love" and "Return of the Dream Canteen," and they continue touring and headlining festivals. Flea is also studying jazz trumpet with Kamasi Washington's father, Rickey, during the breaks between tours.
Apart from his musical endeavors, Flea is involved in a podcast titled "This Little Light," in which he converses with other artists. The podcast, produced in partnership with Parallel and Audacy's Cadence13, benefits the nonprofit Silverlake Conservatory. Flea founded this conservatory in 2001 with the aim of providing music education to the public schools in Los Angeles, an opportunity he felt was gradually disappearing.
Outside of his professional commitments, Flea is a family man, according to Fox News.
He recently became a father to a boy named Darius, his third child, with his wife, Melody Ehsani, a streetwear designer. 
Free

Religious Freedom Updates

Join thousands of others to get the FREEDOM POST newsletter for free, sent twice a week from The Christian Post.