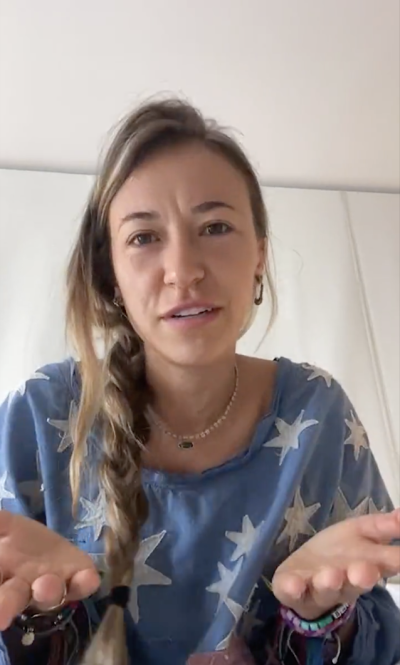 Grammy award-winning singer Lauren Daigle has responded to critics of the new anti-trafficking film "Sound of Freedom."
Daigle recently screened the film and jumped on Instagram live the morning after watching it to directly address the naysayers.
"One thing I found very interesting is that people are having to defend this movie. This is insane to me that this would even be something that needs to be defended," Daigle shared on camera. 
"Children being harmed should never be something we question that we need to defend or not! I saw a lot of pretty inflammatory news articles and headlines and people trying to shut this film down." 
"Sound of Freedom" continues to be a box office success as its fourth weekend in theaters propels the drama to $150 Million in total at the domestic box office.
The Angel Studios film is based on the life of Tim Ballard, a former U.S. Department of Homeland Security agent (played by Jim Caviezel) who left his job because he wanted to do more to rescue children from modern-day slavery.
Some in mainstream media have tried to discredit the film, with The Guardian calling the movie "the QAnon-adjacent thriller seducing America" while Rolling Stone called it a "superhero movie for dads with brainworms" and even described Caviezel as the actor "best known for being tortured to death in Mel Gibson's 'The Passion of the Christ.'"
A factor in these allegations against the film has been lead actor Caviezel, who in the past has openly promoted claims made by the QAnon conspiracy theory community. 
The "You Say" singer said that while she has no connection with people in the film, after watching it with her friends, she felt charged to spread the film's message to help eradicate child trafficking.
"I left like 'holy cow, something needs to happen.' And it really tied into my story." 
When she was a student at Louisiana State University, Daigle said she used to raise money for an anti-trafficking organization. 
"And it was my friends and I, we would host these 5K races to raise money for this organization called A21 that went in and helped children get out of the sex industry." 
Daigle said that her "dream," initially, was to go to law school and do pro-bono law for trafficking victims, adding that "I never in a million years thought that this would be something that people could actually split hairs about, that people could actually argue about."
"It's wild that this could remotely be a topic that people could argue debate, question, children being put in harm's way by the people, adults that are supposed to be protecting them in life. This should never be up for question," Daigle said. "This should never be up for debate!" 
"Children who are entrusted into the hands of adults, who are brought into this world by adults, these kids look up to adults to say 'You're my protector.' And then the adults use that power and that privilege to completely obliterate the lives of others based upon greed."
The 31-year-old performer took her concerns to the Bible with a study centered on Judges 19, which described an unnamed woman being gang raped and subsequent cry for justice. 
"People don't realize how much is tucked away in the Bible. They think that the things that we're going through in the world today, the situations that are at hand, the chaos and the crazy, that's at hand today, they think it never existed, this is too far gone, too far from the Bible, the Bible's not relatable," Daigle explained.
She preached against disunity in modern times and she contends that those who are discrediting the film are working against God's plan of holiness. 
"This chaos that we are all living in has got to end and people, we have to figure out how to unite with the people next to us. Holiness happens when we stand united as one man," she noted.
The platinum recording artist cited Deuteronomy 24:7, which reads that "If someone is caught kidnapping a fellow Israelite and treating or selling them as a slave, the kidnapper must die. You must purge the evil from among you."
"God doesn't take this stuff lightly," she exclaimed. "So for every person who is out there that thinks that this movie is just stupid people trying to praise QAnon, or whatever the stupid conspiracy is, you got something else coming for you because this is not something that God takes lightly." 
"It is my hope and my prayer that we see something change in this world in regards to these children. And I, 1,000% believe that the only way that anything will ever happen is — One: If we unite, Two: If we take action."
Daigle declared that the film "is simply the story of what actually takes place around the world, what actually takes place in places you would never even imagine." 
The Louisiana native recalled a statistic reported back in 2019 that named New Orleans as one of the main hubs for trafficking in the United States because of its shipping ports.
According to a report from the Organization for Economic Cooperation and Development released in January, Mexico "ranks first in child sexual abuse; first in exploitation, homicides, and trafficking of minors; and first in creation and distribution of child pornography." 
The U.S. was identified as the "number one consumer of sex worldwide," which includes viewing child pornography, according to Geoff Rogers, co-founder of the United States Institute Against Human Trafficking, as quoted in a 2019 Fox News report.
"Here's the thing about cinema, cinema has been used for years, and years, as long as we can remember to be a place of advocacy," Daigle said at the conclusion of her video. "Cinema tells the story of love, makes you fall in love with people all around you. It shares stories of sorrow, shares stories of darkness, shares stories of goodness. Cinema is like the advocate of the human experience." 
"So I don't understand why when this particular human experience is shared, that there would be a revolt unless there's something going on under the surface."
One way "Sound of Freedom" has earned so much money at the box office is its "Pay It Forward" program used by Angel Studios, where people can donate tickets for anyone that wants to see the film but not might be able to afford to.
Free

Religious Freedom Updates

Join thousands of others to get the FREEDOM POST newsletter for free, sent twice a week from The Christian Post.