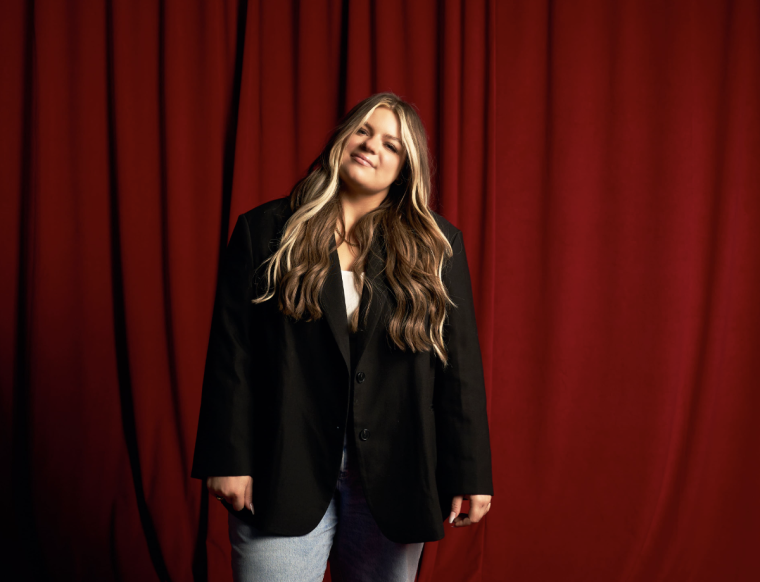 Rising worship artist Anna Golden has released a new single showcasing her gratitude for living in these times with God by her side. 
In this premiere of the song and live video performance of "Because Of You," Golden is joined by Hillsong Worship's Aodhan King for an intimate performance of the second single from her forthcoming album Church.
The song is about seeing the world through a "new lens and gaining a new appreciation for living," according to a statement shared with CP. 
"'Because Of You' is a song written about how beautiful a life with Jesus is. A love song that captures just how stunning your every day is because of the faithfulness, kindness, and consistency of who He is," Golden shared exclusively with CP. "A reminder that even though life holds such uncertainty, He still gives us hope for a new horizon and peace in the midst of chaos."
"This song pulls inspiration from the old hymn 'Because He Lives,' a modern take on the beautiful message, 'Life is worth the living, just because He lives,'" she maintained.
The song kicks off with an acoustic sound featuring an arpeggiated piano and a finger-picked guitar. Golden's strong vocals kick off the track, and then she is joined by King.  
"Because of you I see a new horizon/ because of you all my fears go quiet/ and I know you hold the whole world in your hands/ and this life is worthwhile all because of you," she emotionally sings in the anthemic chorus.
Written by Golden alongside Benjamin "Bede" Korporaal (Passion Music, Hillsong Worship) and Aodhan King (Hillsong Worship), the single is her latest worship offering to God. Her sophomore album, Church, is set to debut on Aug. 11. 
Golden made her entrance into Christian music with her debut album, Peace: The Album. She grew up in St. Louis with her parents, who were worship leaders themselves. She tried working in show business but decided to stick to her roots instead and go into full-time ministry. 
"I was born and raised in the church where both my parents were worship leaders. My whole family is musical, and we all began doing mainstream music at a very young age. But at the age of 14, I had my first internship at a church, and by 16, I was offered a full-time position as a worship leader. By that time, I had chosen to be primarily a worship leader and felt called to do this, and there was such peace and safety in leading others into the presence of God. I never looked back," Golden shared with The Christian Post in a past interview. 
"Now, almost 10 years of working in full-time ministry, I still love it as much as I did then," she continued. "Of course, I've seen the good, the bad and the ugly within the Church, but I still believe in it, and I love the local Church. I love creating resources for the local Church, and it's a privilege creating and seeing people's lives changed through the presence of God. Truly one of the greatest honors of my life."
Golden soon caught the attention of gospel singer Tasha Cobbs Leonard, who offered her a record deal on her label TeeLee Records after inviting Golden to sing on her 2017 album Heart. Passion. Pursuit.
"Tasha has been such a huge impact on my life even before we met," she told CP at the time. "When I was 20 years old, I got an email from her out of the blue to be a part of her Heart. Passion. Pursuit. record that she recorded in Atlanta. When we met, it was almost instantaneous that we felt called to each other."
"Tasha has this incredible ability to see people in their purpose before they are walking in it. So even when I met her, then she saw me for who I was and who she knew I was called to be," she added.
Visit Golden's website for further information on her new music.
Free

Religious Freedom Updates

Join thousands of others to get the FREEDOM POST newsletter for free, sent twice a week from The Christian Post.