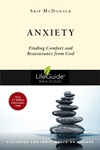 Anxiety
Finding comfort and reassurance from God.
8 Session Bible Study
Skip McDonald

Shallow breathing or even a feeling that you can't breathe. Constant negative thoughts. Inability to focus. Most of us relate in some way to these feelings. Anxiety is that vague feeling that something isn't right, that something bad may happen. Worry becomes an all-consuming part of life. In this eight-session LifeGuide ® Bible Study, nurse and Bible study writer Skip McDonald looks at a variety of Old Testament and New Testament Scripture passages that cover experiences of general anxiety, worry, and panic.
Contents:
1. Why Are You Anxious? Matthew 6:25-34

2. Comfort in Times of Fear Matthew 14:22-36

3. Prayer Philippians 4:4-9

4. Forgiveness Psalm 103:1-14

5. Refocused Psalm 73

6. Rest Matthew 11:25-30

7. Strength Isaiah 40

8. Refreshment Psalm 23

Leader's Notes
For over three decades LifeGuide Bible Studies have provided solid biblical content and raised thought-provoking questions—making for a one-of-a-kind Bible study experience for individuals and groups. This series has more than 130 titles on Old and New Testament books, character studies, and topical studies.